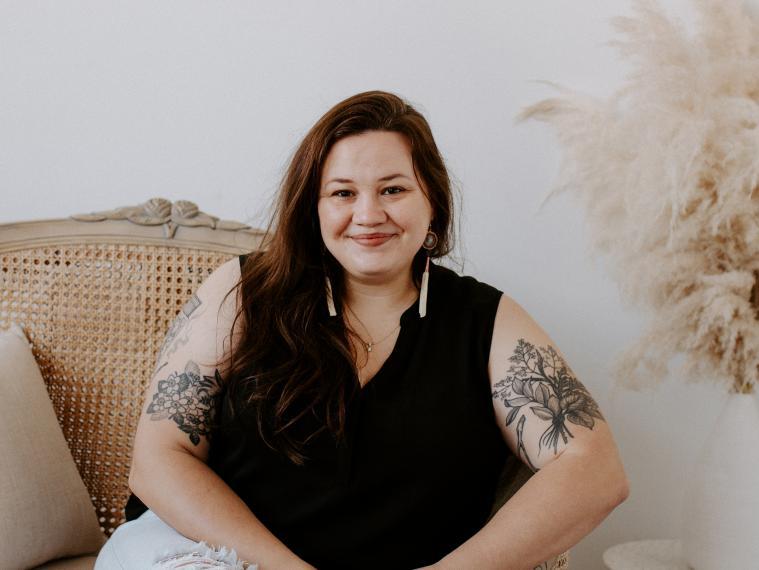 Congrats to our January "G" Thanks! Winner Kaitlin Gallant!
David Mullock wrote in his Kudoboard nomination:
"A big thank you to Kaitlin Gallant (Graphic Designer) in Communications and Marketing for her recent help on a graphic design project that our office submitted to an external stakeholder. Kaitlin was amazing in helping to create a professional looking product within a very tight timeline. We had a lot of back and forth with changes/edits and last minute requests. The end product helped our office present a clean and clear communications document and helped elevate the reputation of the University. Thank you from all of us. We couldn't have done it without Kaitlin's help!"
A virtual celebration was held for Kaitlin and several of her colleagues joined to show appreciation and recognition.
When learning she was selected to be this month's winner, Kaitlin said, "It is very humbling to receive the nomination for the G Thanks program! Thank you, David! I'm very happy to be on the Communications and Marketing team, where I am able to produce design work that helps elevate the University brand and voice in an impactful way. Being able to take text, graphs and images and put them together in a cohesive way is sometimes a challenge, but I am always up for it! It is great to be able to work with many creative and talented individuals that help bring these projects from concept through to final completion. Also – being able to see the G Thanks water bottle (which I designed the label for) in person will be awesome. It's things like this that makes graphic designers so happy!"
Kaitlin's manager, Amanda Scott, said "I am thrilled for Kaitlin. She's an amazing talent and we're proud to have her on our team. Her attention to detail, efficient work ethic, talent and supporting our team while going above and beyond has been integral to our successful departmental project outcomes. Thank you Kaitlin for being the amazing talent that you are!"
Congrats Kaitlin and thanks for all your great work!
"G" Thanks! is a program within the GREAT at U of G initiative, focused on building a culture of gratitude, recognition, and appreciation at U of G. Each month, a new Kudoboard is open for nominations from the University community for faculty and staff who you want to appreciate, recognize, or show gratitude for.
Learn more by visiting the GREAT at U of G website. [1]