Food and Agricultural Business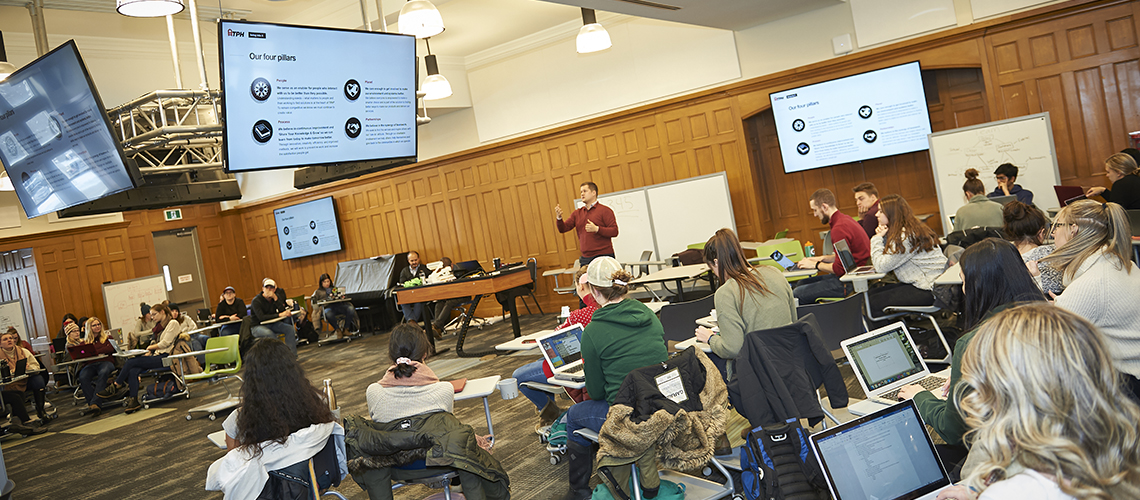 Food is big business. It is Canada's second largest industry, and in Ontario one in every five jobs is food-related. In the Food and Agricultural Business (FAB) major of the Bachelor of Commerce degree program, you will develop the management skills you'll need to succeed in today's agribusiness industry.
You will explore all areas of management, including accounting, economics, finance, marketing, production, organizational behaviour, policy planning and implementation. Your degree will also prepare you for further studies leading to a professional accounting designation or graduate school. This program is fully accredited by the Agricultural Institute of Canada. Co-op opportunities are available. This program is offered and administered by the Department of Food, Agricultural and Resource Economics in conjunction with the College of Business and Economics.
Admission Requirements
Ontario secondary school students applying to the program require English (ENG4U), Advanced Functions (MHF4U), 1 additional 4U math, and 3 additional 4U or 4M courses. Students that are mature, transfer, or applying from outside Ontario should visit the admission requirements page to learn about their requirements.
Unique Courses
Agrifood Markets and Policy
Food and International Development
Strategic Management
Food & Agri Marketing Management
World Agriculture, Food Security and Economic Development
Economic Statistics
Full course descriptions and a listing of all courses, can be found in the Undergraduate Calendar.
Co-op
A co-op option is available for students studying in the FAB major. Students are required to complete three co-op work terms as part of this five-year degree. Working with Co-operative Education and Career Services, students receive support in applying for positions and completing work terms. The co-op experience improves students' job search skills, work performance and networking abilities, while they explore career opportunities and make money. Learn more about co-op here.
Career Opportunities
Accounting Clerk
Agronomy Specialist
Marketing Coordinator
Procurement /Purchasing Agent
Sales Development/Area Marketing Specialist
What Students are Saying
Sometimes the best way to learn about a program is through meeting a current student. Meet them here:

"Being a food and agricultural business student is the best of both worlds. The program offers a lot of structure in the first couple years, which gives a broad understanding of all aspects of business and how they apply to agriculture." -Clarissa McCallum, food and agricultural business student
Learn about other student experiences through the following student profiles:
What Grads are Doing
Want to know what types of exciting careers our graduates have? Meet a few here:

"The thing I like the most about working in the dairy industry is that farmers are so keen to try new things and do what it takes to improve efficiency. They are always striving to learn more and do better and its fun going along for the ride with them. " -Thomas Scott, Dairy Account Manager
Learn about other alumni through the following profiles:
Learn About the Perks
Questions
Our OAC Student Liaison team is here to help! Have you applied to or are you considering this program, but have some questions? Find answers to our most frequently asked questions here.
Still have questions/inquires? Ask us! Our team of program experts will happily answer your questions or direct them to the people who can. Ask your questions here.