Plant Science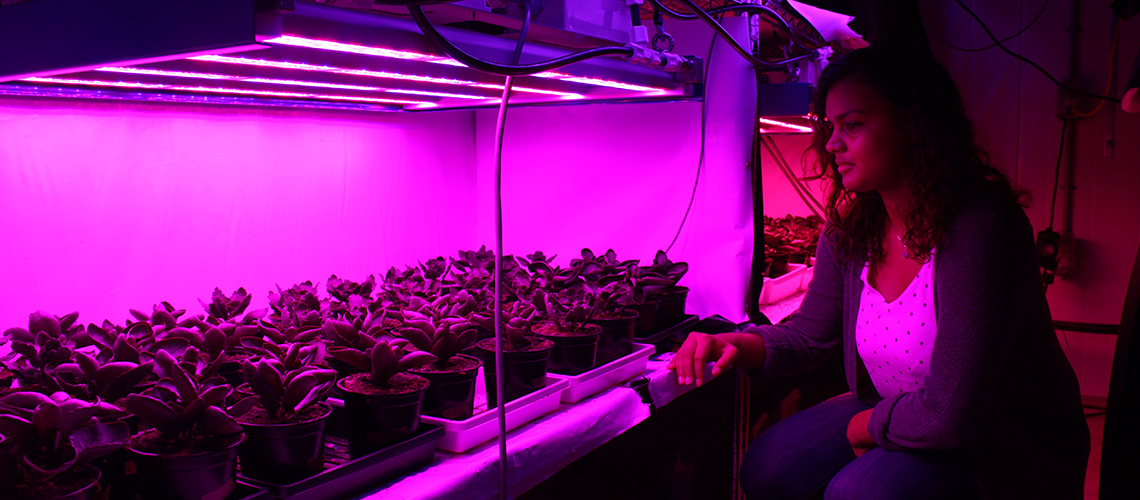 With society's emerging dependency on plants in the bio-economy and needs for both increased environmental management and efficient production of healthy foods, in this major you will investigate the many wonders of plants. In the Plant Science Major of the Bachelor of Science degree program, you will explore the intricacies of plant diversity, growth and development, plant-environment interactions, advances in molecular biology, and the wide variety of economic uses for plants. Study these areas alongside one of the largest concentration of plant scientists in Canada.
This major will give you hands-on experience in plant ecology, systematics, physiology, botany, genetics, agriculture, ethnobotany and biotechnology using the international expertise and advanced technologies found in the departments of Plant Agriculture, Environmental Biology, Integrative Biology and Molecular Cellular Biology. The curriculum is designed to offer a focus in areas of emphasis, or allow you to custom-design a program of studies to suit your needs.
The University of Guelph is an internationally top-ranked university with both biological science and agriculture colleges. The Plant Science program crosses college boundaries to bring the full range of plant science programming to students. Students in Plant Sciences, who graduate with a B.Sc. degree, have the freedom to merge studies in botany, ecology and agriculture in a way that best suits their interests. This program is offered and administered by the Department of Plant Agriculture, and/or the School of Environmental Sciences in conjunction with the College of Biological Science.
Admission Requirements
Ontario secondary school students applying to the program require English (ENG4U), Advanced Functions (MHF4U), 2 courses from Biology (SBI4U), Chemistry (SCH4U), Physics (SPH4U); completion of all three is highly recommended, and 2 additional 4U or 4M courses. Students that are mature, transfer, or applying from outside Ontario should visit the admission requirements page to learn about their requirements.
Unique Courses
Plant Growth and Development
Agriculture and Food Issues Problem Solving
Life Strategies of Plants
Cannabis Production
Greenhouse Production
Genetic Engineering of Plants
Wine-Grape Culture
Soil Management
Full course descriptions and a listing of all courses, can be found in the Undergraduate Calendar.
Co-op
New offering for 2022 entry! A co-op option is now available for students studying in the Plant Science major. Students are required to complete three co-op work terms as part of this five-year degree. Working with Co-operative Education and Career Services, students receive support in applying for positions and completing work terms. The co-op experience improves students' job search skills, work performance and networking abilities, while they explore career opportunities and make money. Learn more about co-op here.
Career Opportunities
Agronomist
Crop production manager
Horticulturalist
Conservation biologist
Field botanist
Research technician
Greenhouse manager
Government regulator
What Students are Saying
Sometimes the best way to learn about a program is through meeting a current student. Meet them here:

"The University of Guelph is well known for their agriculture and plant science programs so coming here was a very easy decision... I love the variety of options that a plant science major offers, I could take classes ranging anywhere from biotechnology to crop related sciences to environmental sciences."-Vanessa Vongnhay, plant science student
Learn about other student experiences through the following student profiles:
Learn About the Perks
Questions
Our OAC Student Liaison team is here to help! Have you applied to or are you considering this program, but have some questions? Check out the following pages to learn more: