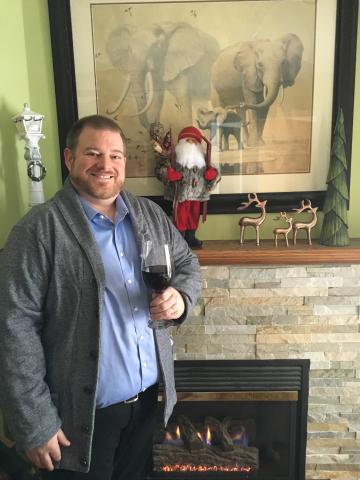 by Owen Roberts
At least one good thing has come out of this year's incessantly deep and long cold snap – a great icewine harvest.
Sometimes the harvest, which typically yields about 800,00 litres of ice wine, takes place at night. That's how producers try to avoid the warming or melting effect of the sun on the frozen grapes, which are left on the vine through the fall to dehydrate and concentrate their sugar content.
But that hasn't been a worry this year, given the stubborn, rock-bottom -25 C temperatures experienced in the Niagara region around the New Year.
Prof. Mark Holmes of the University of Guelph's College of Business and Economics has studied the Niagara region's success in ice wine – which constitutes about half of all our wine exports -- and back home, as part of what's called integrated rural wine tourism. It's a field that looks at how wine tourism attracts people to the region, and what that draw means for the region's sustainability.
A huge benefit of wine tourism is that it generates income. In Niagara's case, wine tourism contributes about $90 million in retail wine store sales.
Second, it certainly creates profile for the region. Today, about 180 wineries are now established in the Niagara region (compared to six, in 1974). Nearly nine per cent of all the agricultural land in the Niagara Peninsula is planted to grapes.   
And while those are certainly impressive numbers, the question remains: how can the industry be sustained?
In the long run, wine production depends on good farming practices and sustainable agriculture. Holmes says sustainability is being promoted by grape growers and other fruit and vegetable producers in the Niagara region through integrated and targeted pest management, and responsible approaches to crop protection.
Some vineyards are practically right on top of residential developments. Others are a stone's throw away. Producers are under the microscope. With the growing percentage of land going into grape production, they must take extra measures to live in harmony with their neighbours.
That may include taking care to keep their vineyards aesthetically pleasing and create attractive wine vistas. Even in the dead of winter, driving through or past well-kept vineyards is a feel-good experience. Though the vines are dormant, the vineyards looks neat, tidy and symmetrical.
Holmes says synergies develop from wine tourism – like the wine tour companies, marketers, accommodations and restaurants, supporting one another.
"There's a multiplier effect," he says. "They all work together to improve the wine experience."
And the system keeps on working, regardless of the season.
A version of this story appears in Guelph Today [1].