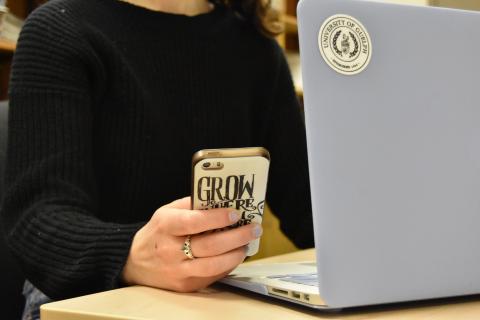 By Megan Swim
Society often frowns on the use of sexting – that is, digital technology for sexual purposes -- particularly for women. In some cases, women are more vulnerable for photos going viral or being shown to others without consent, leading to a culture of fear.
But how does this attitude impact women's sexuality?
In a study last summer, PhD candidate Erin Watson and Prof. Robin Milhausen found sexting provides some women with increased pleasure, desire, and opportunities for sexual communication.
In fact, they say sexting can be empowering.
They arrived at this conclusion based on interviews conducted by Watson with university- and college-age women, asking them to reflect on their sexting experiences.
Watson discovered that overall, sexting can provide positive benefits for some young Canadian women. Benefits include enhancing their sexual pleasure, allowing them to explore their sexuality with perceived safety and comfort, negotiating consent, enforcing boundaries, developing sexual self-awareness, improving communication and intimacy, feeling empowered, and developing their voices.
Watson conducted her research throughout southwestern Ontario, with participants from University of Guelph, the University of Waterloo, Ryerson University, Western University, McMaster University, and Guelph-Humber.
She hopes her findings will support informed policy and advocacy initiatives, and better sexual education systems.
"If women are telling us what they need to feel safe and empowered, then this information – not fear - should be what informs sexual education curriculums," she says.
Watson is supported by a Social Sciences and Humanities Research Council doctoral fellowship.