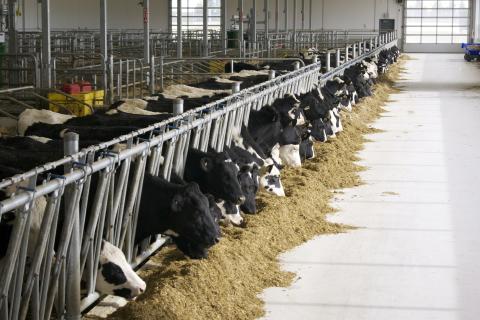 By Liz Snyder
Animal Care Services has been developing a system to support animal research teams through the life of their research project – and animal researchers at the U of G can soon look forward to even more support with the hiring of a post-approval review coordinator.
To get to this point, for the past two years Animal Care Services has been consulting with Canadian universities that have similar animal care programs and U of G researchers and animal facility managers.  They wanted to see what a good post-approval review program would look like -- when might be good points of contact during the course of research, what that contact would entail and who would do it.
Anna Bolinder, Director, Training and Education, Animal Care Services says they wanted to create a system that worked because staff and faculty who will be affected by it, have had some input into how it works.
"The intention is to build the program in close teamwork with faculty, technical staff and facilities' management," she says.
Development of the program began after the Canadian Council on Animal Care made a recommendation to 'ensure that a formal, documented and effective Post-Approval Monitoring program, centered on the Animal Care Committee, be implemented across all animal facilities.' 
U of G already follows strict animal care protocols.  The use of live animals in research and teaching is regulated and monitored at provincial and national levels. On campus, the Animal Care Committee has full authority over animal use, and governs all decisions related to live animal activities in research, teaching and at university events by evaluating and approving Animal Utilization Protocols – which is a detailed description of why and how the animals are to be used for research purposes.
Bolinder says, this new program will address questions they have had about follow-up once researchers have an approved protocol -- but it's not just about making sure there is compliance.
"Without a post-approval review program how do the animal-based activities and experiences gained from one research lab become mutually beneficial to another lab, so that techniques and innovations may be shared with other researchers?" she says.
To do this, Bolinder and her team identified the need to hire a dedicated coordinator.  Martha Smith was hired to fill this role in August 2017.  Smith will provide full-time support to animal-based researchers and act as the primary liaison between investigators and their lab members, facility veterinarians, animal care staff and the Animal Care Committee for all activities related to the animals.
First though, Smith will run a testing phase with a small group of researchers and make adjustments before launching it campus-wide in May 2018.
However, it's going to take some time to contact everyone.  The animal use and care program at the University of Guelph involves more than 500 active research and teaching protocols. Scheduling and conducting a first post-approval review visit to each lab is expected to take 16 -18 months.
Animal Care Services will provide information about the program on their website and, as well, there will be training sessions at the departmental level and online tutorials to ensure all involved parties are current on the new post-approval review process.
"We are looking forward to working in a supportive role with researchers, with the common goal of maintaining the highest of standards in animal care and welfare while making advancements for humans, animals, and environment through research and teaching at the University of Guelph," says Bolinder.
The Research Support Fund supports development and initiation of a post-approval review program for animal use.