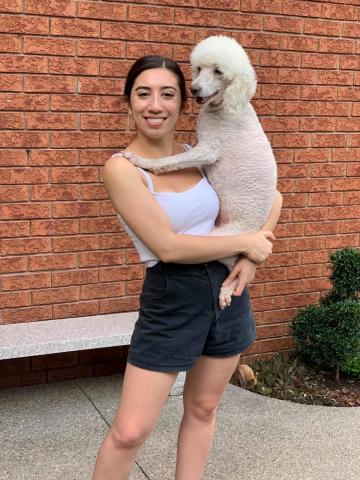 By Sydney Pearce
World-wide efforts to prevent further deaths from COVID-19 are in full effect, but experts at the University of Guelph say that focusing solely on humans can't effectively address the pandemic or prevent future ones. They're responding with rapid research to look at health broadly – including the health of pets – to give governments the tools to improve their strategies.
Here's why. COVID-19 doesn't adhere to species boundaries or even affect all humans at an equal level. A One Health approach fills in these blanks by considering the interconnectedness of human, animal, and environmental health. Used as an approach to research and government strategies, experts say it can prevent the virus from being passed back to animals where it might create another wildlife reservoir.
University of Guelph pathobiology professor Scott Weese says adopting One Health into government decision-making, such as communicating precautions to pet owners, can improve disease control strategies as we share homes with pets, environments with wildlife, and experience adversity dependant on built environments, such as financial status.
He says this approach can also help prevent a serious animal welfare issue that has cropped up recently in the form of abandonment.
"If we understand, prevent, and discuss disease in animals, pet abandonment caused by human fear can be reduced or eliminated," he says.
Weese is conducting pet health surveillance research and communication with the Public Health Agency of Canada (PHAC) to include animal health in their messaging and policy, specifically focusing on limiting pet interactions with COVID-19 cases.
"Through surveillance and government communication, we want to prevent the spread of this virus to pets, livestock and wildlife from contracting this disease to benefit their health and prevent the emergence of further risks to people," he says.
Weese is a member of the Global 1 Health Network (G1HN) and is also partnering with a veterinary lab at OVC led by Dr. Dorothee Bienzle to conduct COVID-19 surveillance outside of human cases.
Together, they are seeking out pet owners diagnosed with COVID-19 and testing their cats, dogs, and ferrets for the disease. Cats and dogs are known to contract the virus; the researchers expect to see a similar result in ferrets who are particularly prone to respiratory diseases like COVID-19 and have been infected experimentally.
Weese and Bienzle are now taking this knowledge a step further. They're figuring out how often this virus is transmitted from infected people to their pets and what factors increase the risk of transmission between pets and their owners. From this, researchers can help inform veterinarians, public health personnel, animal owners and other groups about risks and control measures.
Another key message is that pets should be kept indoors as much as possible to avoid bringing in the virus from outside sources, particularly outdoor cats as they are more susceptible to the virus than dogs.
In general, Weese advises applying social distancing measures to pets, to prevent them from being infected by someone outside of the household. This also important for wildlife – infected outdoor cats can potentially transmit to wild animals, causing them harm and creating a new population to potentially infect humans and pets.
"Uptake can be slow," says Weese. "The One Health approach isn't the easiest implement but can make a huge difference in this complex problem. We are tackling this issue on multiple levels from social media surveillance, to preventing vaccine and drug exploitation, to ensuring equity in policy implementation – we are dedicated to improving the global response to COVID-19 in real time."
Aside from Weese's surveillance, some of G1HN's work involves a new algorithm to track disease spread using social media, as well as deeper analysis of human characteristics influencing spread of misinformation to target for public health messaging.
The group is also actively assessing global government policy implementation on regulating wild food markets, while documenting cultural norms to maintain sensitivity to their perspective. As well, it's taking a unique approach to help vaccine and treatment pricing remain feasible, by assessing the relationship between previous research funding for disease outbreaks and industry pricing of the resulting products.
Throughout all their research and government communication programs, group members are building recommendations for how One Health-informed strategies can be most equitable. Communities are impacted by this virus in different magnitudes, and by acknowledging inadequate attention to marginalized communities, governments can prevent the exaggerated impact of this disease within them. Some of these recommendations are being informed and will be jointly implemented by organizations supporting equity for racialized groups, LGBTQ2+ communities, women, and groups with disabilities.
"We want governments to have the best available information to tackle this problem on the many levels it impacts," says Weese. "It's a difficult balance between increasing awareness and freaking people out. But, the key is that we're trying to be proactive to head off potential issues – we'd rather confirm there are no major issues than wait and see."
One Health and disease expert Dr. Scott Weese recommends pet owners:
Limit their pets' interactions with humans and animals outside of their social circle
Keep cats indoors whenever possible
Be informed about how to manage COVID-19 transmission risks between you and your pets – we can still have safe, loving relationships with our four-legged family members if we practice the above recommendations
Funding provided by the Canadian Institutes of Health Research. For more information on G1HN visit http://global1hn.ca/ [1]. Primary researchers for the G1HN projects are Drs. Ronal Labonte, Nicholas Ogden, Reed Beall, Helene Carabin, Janice Graham, Aidan Hollis, Mary Wiktorowiz, and Christina Zarowsky.