OVC Grad Student Receives NSERC Scholarship
June 16, 2009 - News Release
A would-be cartoonist turned veterinary scientist has been awarded a prestigious Julie Payette-NSERC Research Scholarship from the Natural Sciences and Engineering Research Council of Canada.
Melanie Ammersbach, a PhD student in the Department of Pathobiology, is among 24 of Canada's top-ranked graduate students to receive this year's scholarship. The $25,000 award, named for the Canadian astronaut who is set to make her second trip to the International Space Station, recognizes academic excellence, research ability and potential, and leadership and communication skills.
"It's an incredible honour," said Ammersbach. "The scholarship will certainly help me pursue my research, but it also increases the pressure to perform and live up to expectations."
She moved straight into the PhD program last fall after graduating from the Ontario Veterinary College (OVC) in 2007 and completing a one-year internship in small-animal medicine and surgery at the OVC Teaching Hospital.
She is combining the PhD with a residency in clinical pathology, with the goal of finishing the degree and becoming board-certified by the American College of Veterinary Pathologists in five years.
With the next few years of her life mapped out, Ammersbach reflects that it could have turned out much differently. Born in Belgium, she was 15 when her family moved to Canada in 1998 for her engineer father to pursue what was intended to be a two-year career opportunity. As a high school student in Burlington, she focused on learning English and planned to study animation at college. But instead of graduating in Grade 12 and sketching out a career in the arts, she opted to return for Grade 13 and took some science courses.
"That year completely changed my mind," she said.
Working with Prof. Dorothee Bienzle, Ammersbach is focusing her research on feline immunodeficiency virus (FIV). She will study the interactions between the virus and the immune system and compare two strains of FIV.
FIV affects only about two per cent of domestic cats in North America but as many as 30 per cent in Japan. Although there are important differences between FIV and human immunodeficiency virus (HIV), the animal model might one day yield clues about HIV/AIDS in humans, said Ammersbach.
In the meantime, combining a PhD program with a clinical residency gives her the best of both worlds.
"I really enjoy being able to explore scientific questions in great detail and trying to understand things at the deepest level. But I also enjoy the clinics and working with students and clinicians, teaching and discussing concepts one-on-one and helping them find the answers they need to treat their patients."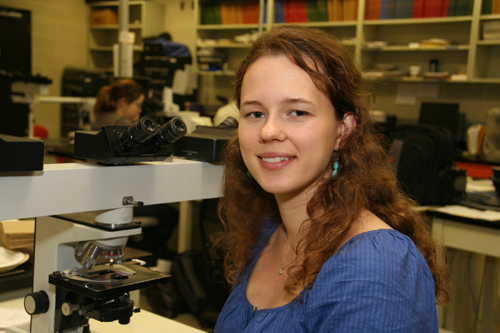 For media questions, contact U of G Communications and Public Affairs: Lori Bona Hunt, Ext. 53338 lhunt@uoguelph.ca, or Barry Gunn, Ext. 56982 bagunn@uoguelph.ca.