English Prof Named Toronto's Poet Laureate
September 30, 2009 - News Release
University of Guelph English professor Dionne Brand today was named Toronto's poet laureate. As the city's literary ambassador, she'll attend events as an advocate for poetry, language and the arts. She'll also create a literary legacy project.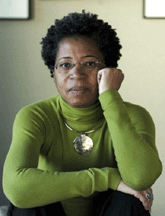 Brand is the third person to hold the position, which honours a Toronto poet whose work displays excellence and addresses themes relevant to Torontonians. She will serve for three years, receiving an annual honorarium of $10,000.
"It's an honour to be the poet laureate of Toronto," said Brand. "I have a great passion for this city. In its multiplicity, it is constantly rich and surprising. I've written this about it in thirsty — that wild waiting at traffic lights off the end of the world, where nothing is simple, nothing, in the city there is no simple love or simple fidelity, the heart is slippery."
Brand is a Governor General's Award-winning author and poet. She has published nine volumes of poetry including No Language is Neutral, short-listed for the Governor General's Award; Land To Light On, winner of the Governor General's Award and the Trillium Book Award; thirsty, winner of the Pat Lowther Award and a finalist for the Trillium Book Award and the Griffin Poetry Prize; and Inventory, a finalist for the Governor General's Award in 2007.
She is also an award-winning novelist, capturing the Toronto Book Award for her novel What We All Long For in 2006. She was awarded that year's Harbourfront Festival Prize, an award honouring individuals who have made a substantial contribution to books and writing.
She has also contributed to 17 anthologies, written dozens of essays and articles, and made four documentary films for the National Film Board. Ossuaries, her next collection of poems, will be published next year by McClelland and Stewart.
Her writing has been translated into Italian and French, and is published in Canada, the United States, United Kingdom, Italy and Germany. She has written about Toronto and Canada throughout her career.
"I am thrilled to see one of Toronto's most distinguished writers serve in this important role," said Toronto mayor David Miller. "Ms. Brand's impressive body of work covers a range of issues and topics on community and cultural diversity. Her passion to tell Toronto stories to the world should serve as an inspiration to all Torontonians."
Born in 1953, Brand moved to Canada from Trinidad at 17 to attend the University of Toronto, where she studied philosophy and English.
For media questions, contact Communications and Public Affairs: Lori Bona Hunt, Ext. 53338 or lhunt@uoguelph.ca, or Barry Gunn, Ext. 56982 or bagunn@uoguelph.ca.