Students Teaching Children How Food Gets From Garden to Table
October 06, 2009 - News Release
A group of University of Guelph students are helping local elementary children learn about growing, harvesting and preparing their own food as part of a new student-led program called Garden2Table.
The Hospitality and Tourism Management students, along with the Guelph Centre for Urban Organic Farming, are working with a Grade 4 class at Jean Little Public School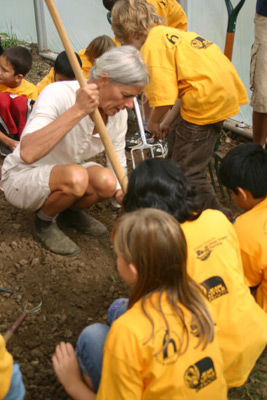 The program is based on an international movement to bring the basics of agriculture and cooking into the elementary school curriculum while giving back to the community, said Teressa Thorpe, a fourth-year student and president of the HTM Student Association. Students initiated the program after hearing about it from HTM professor Bruce McAdams.

"I thought it was an opportunity for me to get HTM students involved with the community and a great way to connect with kids," said Thorpe. "It's also a great hands-on opportunity for us to learn more about sustainability."
Programs like Garden2Table have been growing in popularity over the past few years, with similar initiatives sprouting up all over the world. Michelle Obama has even invited children to the White House to learn about healthy eating and organic gardening by growing and harvesting vegetables.
Last month, the Grade 4 students learned how level soil to create garden beds and planted lettuce. The day's lesson was led by Martha Gay Scroggins, site co-ordinator of the Guelph Centre for Urban Organic Farming
"The main objective of the centre is to provide a facility where a wide variety of people can learn about urban agriculture," said Scroggins. "More and more people these days want to learn about growing food."
Grade 4 teacher Amy Skinner said her class is enthusiastic about the project. She was also keen to participate because it aligns with some of the lessons in her school's curriculum about healthy eating and the environment.

"Kids sometimes don't have an appreciation for where food comes from," Skinner said. "They often think it just comes from a grocery store. It's important for them to learn how valuable farmers and farming are, and this is also a great way to introduce them to the University and careers in agriculture and hospitality."
Later this month, the children will harvest their greens and some root vegetables and head to the University's PJ's Restaurant in the Atrium to prepare their food and enjoy a one-of-a-kind lunch created by HTM chef Simon Day.
A fundraising dinner in support of the Garden2Table program and the Guelph Centre for Urban Organic Farming is being held Wednesday at PJ's. The sold-out event will feature award-winning wines and locally grown organic foods prepared by Day and guest chefs Anthony Walsh of Toronto's Canoe Restaurant and Bar, and Yasser Quawasih from Guelph's Artisanale Café and Bistro.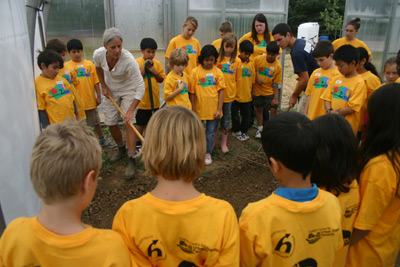 For media questions, contact Communications and Public Affairs: Lori Bona Hunt, Ext. 53338 or lhunt@uoguelph.ca , or Barry Gunn, Ext. 56982, bagunn@uoguelph.ca .