U of G Student Has the Need for Speed
January 07, 2010 - News Release
When University of Guelph student Shawna Woudstra was five years old, her mother enrolled her in ballet classes. After three years of classical music and tutus, Woudstra gave up any ballerina ambitions when her father bought her a junior dragster and started taking her to the track.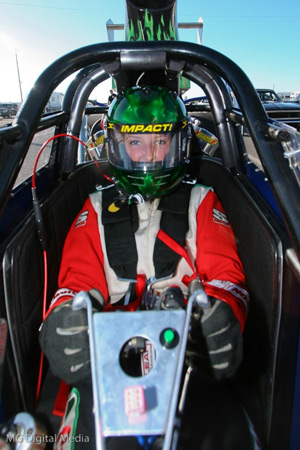 "My dad had started drag racing when he was 16, but he gave it up when he got married," said Woudstra, a first-year student in family studies.
"Now he's living his dreams through me."
And so far, his dreams are turning out well. Woudstra has more than 100 trophies, including two Ironman trophies, which she describes as "the Stanley Cup of drag racing."
She was track champion at her home track (Toronto Motorsport in Cayuga) in 2002 and 2006 and has always been in the top three.
All those awards were won in that junior dragster, but this year Woudstra moved up to adult competition. A junior dragster, designed for drivers aged eight to 17, is about one-quarter the size of a full-sized dragster and is driven just 600 feet (one-eighth of a mile) in a race. During that short stretch, however, the vehicle can reach speeds of 85 miles an hour (racing speeds are calculated in miles rather than kilometres).
"When I started, I was a little nervous, but soon I wanted to go faster and faster," she said.
In drag racing, only two cars race at a time, going head-to-head along two short straight tracks. The winner of each heat is matched against the winner of another heat, and this continues until a final overall winner is determined.
After turning 18, Woudstra dreamed of having a full-sized dragster but thought the car she loved was financially out of reach. "Then one day last December, I came home from school, and my dad called me into the garage. And there was the car — along with many of my friends and family. It was a great surprise."
Before she could begin competing at this next level, Woudstra had to install an engine in the vehicle and do some trial runs to earn her racing licence. By August, she was eligible to compete and has achieved some respectable placings, coming in third in her first race and ending up in the top 10 in a field of 40 in another.
"This car takes off so fast that even though you're strapped in tightly, you're still thrown back," she said. "You really have to focus on what you're doing. I love it, though. It's like a natural high."
Woudstra's costs — and she admits drag racing can be expensive — are partially defrayed by her sponsor, Castrol SYNTEC, whose logo adorns the car, her driving clothes and the trailer she uses to travel to race events.
At the adult level, she now drives a quarter-mile track at 160 miles an hour in the top class. "That's the fastest category in the normal races," she said. "There's a category higher called top fuel, and that's where I want to be eventually. They drive at more than 300 miles an hour."
After burning up the track at these speeds, is Woudstra tempted to match them on city roads?
"Actually, I think racing has made me a safer driver," she said. "I know what can happen. I would never be involved in street racing. I say: 'Take it to the track.'"
With her U of G courses also keeping her busy, Woudstra said she takes her textbooks to the track with her and grabs a few minutes to study between races. She also finds time to go to car shows and other events as an ambassador for drag racing and her sponsor.
"My dream is to make a career out of drag racing. It's certainly possible, although I'd have to go to the United States. Either way, I plan to keep on doing this for the rest of my life."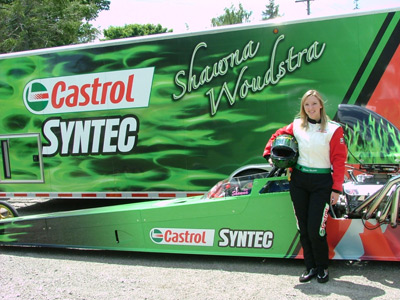 For media questions, contact Communications and Public Affairs: Lori Bona Hunt, 519-824-4120, Ext. 53338, or lhunt@uoguelph.ca; or Deirdre Healey, Ext. 56982 or dhealey@uoguelph.ca.