Student Soldier Releases Book
March 02, 2010 - News Release
Matt Lennox was in the middle of a war zone when he wrote many of the works featured in his first published collection of short stories, Men of Salt, Men of Earth.
It was 2008, and Lennox, who is now doing a master of fine arts in creative writing at the University of Guelph, was a staff officer at Canada's military headquarters in Kandahar, Afghanistan.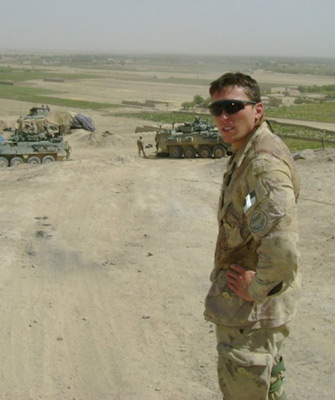 Living under the constant threat of rocket attacks and dealing with the injuries and even deaths of other soldiers, he turned to writing as an escape.
"I was working in a pretty nasty place where people were doing pretty nasty things to each other," he said. "It can really take a toll on you. Writing gave me a mental break from it all."
Lennox was responsible for monitoring what was happening on the front line and responding to radio calls for medical help. It was a job that required him to be constantly on alert. But at night when the fighting calmed and the radios were quiet, he would sit at his desk and write.
During his 10 months in Kandahar as a reservist, he completed 12 short stories and decided to send them off to a publisher.
"Up until this point, writing had always been just a hobby," he said. "It wasn't anything I took seriously. But I really started writing a lot more while I was in Kandahar, and the momentum has continued since I came back."
The student author and his book are featured in today's Globe and Mail.
Men of Salt, Men of Earth was published this fall by Oberon Press in Ottawa and contains a majority of the stories Lennox wrote while serving in Afghanistan, but none of the stories focus on his war experiences. He admits he's still unsure if that's a subject he wants to tackle.
"I haven't yet answered the question as to whether or not I've earned the right to speak for a number of others."
Instead, the theme of searching for male identity runs throughout the book.
"Many of my stories investigate what it means to be a modern man. We live in an era where male identity no longer has any definition. This is evident in Canadian literature, which is very feminine overall."
Lennox continues to balance his passion for writing with his career in the military. Now living in Toronto, he is completing his MFA at the University of Guelph-Humber campus, writing his first novel and working full-time with the Canadian Forces running the provincial operations centre.

For media questions, Communications and Public Affairs: Lori Bona Hunt, Ext. 53338, lhunt@uoguelph.ca, or Deirdre Healey, Ext. 56982, d.healey@exec.uoguelph.ca