Animal Science Students Win North American Competition
April 30, 2010 - News Release
University of Guelph students grabbed top prizes in a North American competition for their scientific papers on animal health and nutrition.
Undergraduate student Lee-Anne Huber and graduate student Michael Steele both placed first in their categories in the continental 2010 Alltech Young Scientist Award competition.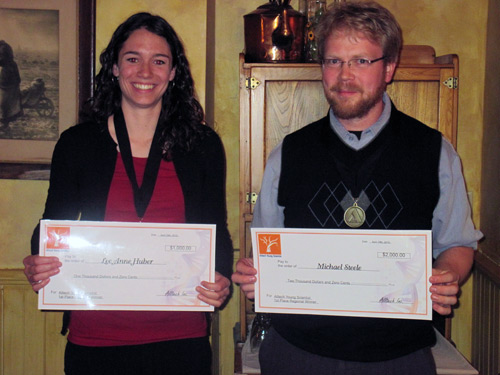 Alltech is a global company headquartered in Lexington, Ky., that produces natural feed supplements.
The annual international competition invites students from colleges and universities around the globe to submit scientific papers aimed at finding natural solutions to animal health challenges.
Huber and Steele placed first in the undergraduate and graduate categories of the North American competition against some 1,100 students. In order to qualify for the North American event, they had to place in the top three at the Canadian competition. U of G dominated the national competition, capturing five of the six top spots.
The two Guelph students will now move on to compete at the global level against the top students from Latin America, Europe, Africa, the Middle East and the Asia-Pacific Region. Competitors will be judged on their papers and presentation. Top prizes are $5,000 for the undergraduate category and $10,000 for graduate student presentations.
Huber won first in the North American undergraduate category for her paper on the amino acids isoleucine and lysine found in pig feed and the ratio of each that is required for animals to reach their maximum performance.
"I am both excited and honoured to represent the University of Guelph in the global portion of the Alltech Young Scientist competition," said Huber, who comes from Kenilworth, Ont. She is continuing her Guelph studies in a master's program in swine nutrition. "The Alltech competition promises to be an unforgettable experience."
Steele, who grew up near Thamesford, Ont., and completed both undergraduate and master's degrees in U of G's Ontario Agricultural College, is currently enrolled in a PhD program in animal nutrition. He earned a top spot in the competition's graduate category for his paper examining how rumen tissue gene expression in cattle responds to dramatic shifts in dietary grain.
"I am humbled by this award and thank Alltech for supporting graduate studies in agriculture," said Steele. "I am very impressed by Alltech's commitment to future scientists interested in pursuing a career in agriculture."
The global competition will be held in Kentucky during the company's International Animal Health and Nutrition Symposium May 16 to 19.

For media questions, contact Communications and Public Affairs: Lori Bona Hunt, 519-824-4120, Ext. 53338, or l.hunt@exec.uoguelph.ca, or Deirdre Healey, Ext. 56982 or d.healey@exec.uoguelph.ca.