U of G Student Finalist in Earth Day Film Contest
April 22, 2010 - News Release
A film about two "environmental heroes" made by a University of Guelph student was a finalist in the 2010 Earth Day Canada film competition. Yvonne Su's film, Dancing with the Wind, tells the story of environmentalist Sharolyn Vettese and her father, Alfred Mathieu, who, at age 84, created an innovative design for a small-scale wind turbine.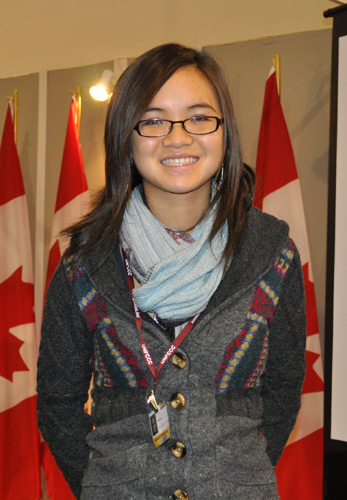 It was named one of the top 20 films in the "Every Day Heroes" contest created by Earth Day Canada. As a finalist, Su's film will be viewed by more than two million Canadians a day on Onestop Media Grou's network of digital displays in Ivanhoe Cambridge Shopping Centres and displays at Toronto Transit Commission terminals, and will appear on Earth Day Canada's website through April 25 as part of Earth Week 2010.
Earth Day Canada created the competition to challenge filmmakers of all ages to tell the stories of everyday environmental heroes in 90-second silent films. The Best in Competition Award went to 10-year-old Miranda Anderson of British Columbia. The event was also sponsored by Ivanhoe Cambridge, Art for Commuters and Onestop Media Group.
"I wanted to enter the contest because I was extremely inspired by Alfred and Sharolyn's story," said Su, a third-year international development student.
"As a World War II veteran and a former director of the UN's Food and Agricultural Organization, Alfred was also an amazing person to spend time with," she said.

The father-daugher duo started working on the "wind dancer" in 2007. The idea was that it should be possible for every house and building to have a small wind turbine on site to generate pollution-free electricity.
Mathieu came up with the design, and Vettese focused on marketing. "Sharolyn didn't have an engineering degree, but that didn't stop her," Su said. "She was determined to turn her father's vision into a reality."
The pair ended up starting their own company, Wind Simplicity. Their wind dancer has won many awards for innovation and design, including the National Energy Globe Award, the Green Dot Award and the Gold Design Exchange Award.
Efforts are underway to install a wind dancer in Guelph. It will be located in the south end near the new emergency services station, to begin operating by the end of the summer.
Su shot her film in one day on Toronto's Harbourfront with the help of a friend. "My favourite part about the whole production was how grateful Alfred and Sharolyn were that we were helping tell their story."
Su, a U of G President's Scholar, has long been interested in environmental issues. She was named among the "Top 20 Under 20" by the Globe and Mail in 2007 for creating a student-run recycling program at her high school. In 2009, she was chosen to represent Canadian youth at the United Nations Climate Change Conference in Copenhagen, Denmark.
For media questions, contact Communications and Public Affairs: Lori Bona Hunt, 519-824-4120, Ext. 53338, or l.hunt@exec.uoguelph.ca, or Deirdre Healey, Ext. 56982 or d.healey@exec.uoguelph.ca.