Students to Compete at World Synchronized Skating Championships
April 09, 2010 - Campus Bulletin
Two University of Guelph students will be representing Canada at the World Synchronized Skating Championships this weekend.
Melissa MacIver, a first-year veterinary student, and Meghan MacPhee, a fourth-year bachelor of commerce student in marketing, will be heading to Colorado Springs with their team, Black Ice, to compete against 23 teams from 19 countries.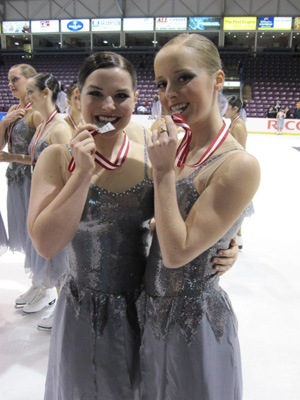 Black Ice is one of two Canadian synchronized skating teams competing at the international event. The team qualified after placing second at the national competition in March.
This is MacIver and MacPhee's second time competing at the world championships. Their team qualified last year and placed fifth overall.
"It's really exciting to have the chance to go to the world championships again," said MacIver, who's been doing synchronized skating for six years. "We've worked really hard this year, and I think we are more prepared than we were last year. We feel more confident going into the competition this time."
The two students live in Guelph and commute to Toronto four times a week to train with their team.
MacIver and MacPhee started out competing in figure skating before moving into synchronized skating.
Synchronized skating is a team sport in which 16 athletes perform a program together. The skaters are judged on teamwork, speed, intricate formations and challenging step sequences.
"Synchronized skating is very different from singles skating because it's more technical," said MacPhee, who has competed in synchronized skating for 11 years. "You have to be a smart skater because you have to know how your actions on the ice impact the other skaters around you."
The upcoming world competition is a "payoff" for all the hard work the team has put in this year, she added.
"We're not concentrating on medals. We just want to be able to come off the ice knowing we skated the best we could."