U of G Chefs Nab Gold Medal at Culinary Contest
June 17, 2010 - News Release
Photo, from left: David Vothknecht, Vijay Nair, Kul Notay and Leigh Laidlaw
Two University of Guelph chefs, Vijay Nair and Kul Notay, were part of a team that won a gold medal at the 16th annual Tastes of the World Chef Culinary Conference held recently at the University of Massachusetts.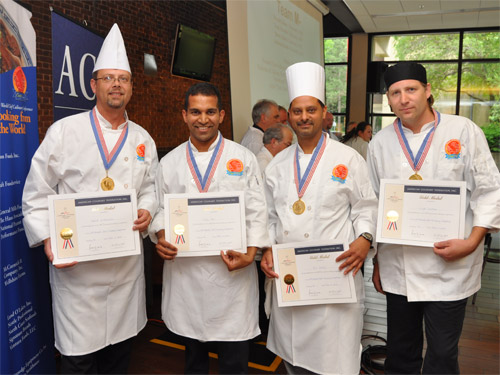 The U of G pair teamed with two chefs from McMaster University, David Vothknecht and Leigh Laidlaw, for a competition sponsored by the American Culinary Federation. This year's theme was "Home Cooking From Around the World." Each team was given eight identical ingredients and had to pull together a menu in 30 minutes. They then had two hours to prepare an appetizer, main course and dessert, as well as a buffet dish.
The food was judged and rated on a point system. Of the 16 chef teams entered, only three were awarded gold medals, including the U of G/McMaster team.
"It was quite a thrill to compete against some of the big schools," Nair says, adding that those schools included the University of California at Berkeley, the University of British Columbia, Penn State, San Diego State and the University of Richmond.
Their gold-winning menu included an appetizer of trout paupiette. The main dish was chicken breast stuffed with green curried rice and Japanese ratatouille. For dessert, they prepared a caramelized apple and strawberry tower. The buffet dish was port-soaked pork shoulder.