U of G Community Urged to Listen Up
July 13, 2010 - News Release
A University of Guelph researcher studying how sound can help us understand our environment invites people to take part in World Listening Day July 18.
Rebecca Caines, a post-doctoral researcher in the School of English and Theatre Studies, says the event celebrates the sounds of the world. It's led by the World Listening Project, an international non-profit organization. The date marks the birthday of Canadian composer R. Murray Schafer, co-founder of the acoustic ecology movement.
Caines is lead researcher for the Community Sound [e]Scapesproject, which is part of the U of G-based collaborative research effort Improvisation, Community and Social Practice (ICASP). ICASP examines ideas of place, community and sound.
For World Listening Day, Caines encourages people to explore "What Does Your Guelph Sound Like?" by recording two minutes of sound at noon on July 18.
"It's as easy as going for a walk with any sort of recording device — mobile phone, voice recorder, MP3 player — pressing record, and letting your ears guide you," she said.
"We aim to celebrate the different sonic worlds we all live in and encourage people to listen to the world around them."
She will feature sound recordings and oral description on her project website, along with recordings made by World Listening Day participants around the globe. Participants may upload recordings directly to the site. The recordings will become part of Caines' larger Community Sound[e]Scapes project, in which community groups in Australia, Northern Ireland and Canada are participating in audio workshops and learning to make improvised sound art.
That project will include a web-based library of sounds; an online sound mixer will allow users to play with combinations of sounds. It will also include artist interviews.
The project will officially begin in September during the Guelph Jazz Festival.

To register for World Listening Day or to receive an information package, contact Caines at rcaines@uoguelph.ca or 226-979-3620.
More information about World Listening Day is available online.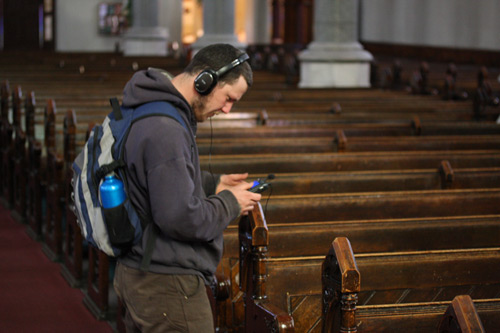 Contact:
Rebecca Caines
rcaines@uoguelph.ca
226-979-3620.

For media questions, contact Communications and Public Affairs: Lori Bona Hunt, 519-824-4120, Ext. 53338, or lhunt@uoguelph.ca, or Deirdre Healey, Ext. 56982 or d.healey@exec.uoguelph.ca.