Student Pumped for Rowing Record Attempt Across Atlantic
December 13, 2010 - News Release
Zach Scher's winter break will be a little different from that of most University of Guelph students - he'll spend it rowing across the Atlantic Ocean. Scher, a fourth-year bachelor of science student, is part of a 16-member international crew trying to break the world record for the fastest east-west crossing.
They will set out from Morocco at the beginning of January in hopes of making the 5,000-kilometre journey to Barbados in less than 33 days, the current record. The crew has to keep the boat moving 24 hours a day, which means rowing around the clock in shifts.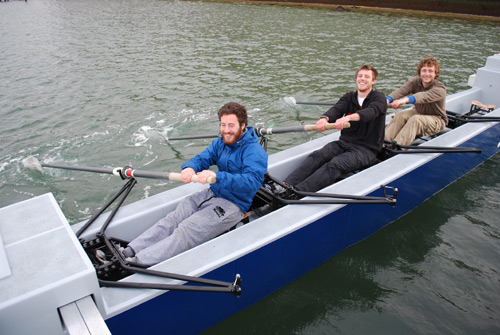 "I love adventure and always wanted to do something like this," Scher said.
Scher and his friend Dylan White, a 2009 U of G graduate in environmental biology, heard about the voyage from a mutual friend, Guelph resident Nigel Roedde, who is making the journey with his father.
They travelled to New York for tryouts earlier this year. "It was more to see if we were going to be a good fit mentally," Scher said, adding that, when you spend 30 days at sea in tight quarters, getting along is paramount.
They will make the trip on the world's largest ocean rowing catamaran, a 39-foot-long vessel named Big Blue built specially for this trip. It's propelled by four rowers on each side; a central "pod" contains bunk beds and washroom facilities.
To qualify for the world record, the trip must be unsupported, or unaccompanied by supply or safety boats. The crew will eat dried meats and fruit, and nuts. "We've been told to bring 220,000 calories of food each, about what the average person eats in three months," Scher said.
"It's going to be a life-changing experience, that's for sure."
Crew members are all ages, backgrounds and nationalities and have varying amounts of rowing experience. Among them are several Canadians, Americans, an Austrian and the first Belgian woman to attempt to row across an ocean. They include doctors, firefighters, writers and students. At 22, Scher is the youngest member (he also lacks any rowing or sailing experience); the oldest is 67. At the helm is Angela Madsen, an American Paralympian and ocean rower.
"There is an eclectic mix of people, but it takes a certain type of personality to be attracted to something like this," Scher said. He met the rest of the crew for the first time last month in New York during a 24-hour test run.
They planned the trip for winter to take advantage of currents and weather. Scher, who has never been overseas, will fly to Morocco Dec. 29. There he will help assemble the boat, which is being shipped in pieces.
He's been training for eight months with long gruelling workouts on indoor rowing machines. He's also weight training six days a week.
"It's tough. It's hard to balance school, training and a social life. Something always gets neglected."
He's also trying to bulk up — a lot. Each crew member is expected to lose 20 to 30 pounds during the trip, so they're encouraged to gain as much weight now as possible.
"That has definitely been the hardest part," Scher said, adding that he is eating constantly.
The quest is a combination fundraiser and personal challenge for Scher, White and Roedde. The three Guelph residents are raising money for their expedition and for a non-profit agency, Survival International, which supports rights of tribal peoples worldwide. The trio will split proceeds with the charity.
Donations to the rowing expedition may be made online.