Mancuso Receives Canada's Top Teaching Award
February 11, 2011 - News Release
Maureen Mancuso, vice-president (academic), has been awarded a 2011 3M National Teaching Fellowship. The University of Guelph is the first university in Canada to have its current president and provost hold the prestigious teaching awards.
Sponsored by 3M Canada and the Society for Teaching and Learning in Higher Education, the awards recognize exceptional contributions to teaching and learning and are considered Canada's top teaching honour. Ten Canadian professors are being recognized this year; Mancuso is the only senior administrator. Winners get a citation and participate in a three-day educational retreat.
Mancuso is U of G's 14th 3M fellow. About 250 Canadian professors have received 3M awards since its inception in 1986.
"I am extremely proud and absolutely delighted for Maureen," said president Alastair Summerlee, who received a 3M fellowship in 2003. "She personifies the ideals of this award. In the more than three decades I have spent in higher education, I have encountered few people with as much passion, enthusiasm and commitment to learning and teaching."
Mancuso, who is also a political science professor, was selected for her academic leadership, teaching, and contributions to program development and educational reform.

Letters supporting her nomination call her an "innovator" and a "fearless advocate" and praise her skills as an educator, mentor and role model, including her "infectious passion for teaching," especially after taking on administrative roles.
"Teaching is one of the core missions of our university, and I consider it a responsibility and a privilege," Mancuso said.
"The teaching process is always a learning process for me as well as my students. I engage them as active participants in their learning, and their fresh ideas and inquisitive minds inspire me to explore new perspectives in my field of study."
Mancuso won a U of G teaching award from the former College of Social Science in 1996 and has twice been named among Guelph's most popular professors in Maclean's magazine. She was also selected to give the University's inaugural Last Lecture.
As an administrator, she strives to use her position to "bring about change and break new ground in order to make a difference in education, now and in the future."
She has led several key institutional initiatives at U of G to enhance teaching and learning. She initiated a re-examination of undergraduate learning, introduced the first-year seminar program and chaired the Presidential Task Force on Accessibility to Post-Secondary Education. She has served on local and provincial committees, including task forces aimed at improving educational quality, productivity and equity. She has also published papers on student engagement and the learning experience, and issues related to accessibility.
Mancuso was appointed provost in 2004 and was the first woman at U of G to hold the position. She was reappointed in 2009. She served as chair of the Department of Political Science from 1996 to 2000 and was appointed associate vice-president (academic) in 2000.
She earned a bachelor's degree from McMaster University, a master's degree from Carleton University and a D.Phil. from Nuffield College at Oxford University, where she was a British Council Fellow. She is the author of four books and dozens of book chapters and articles.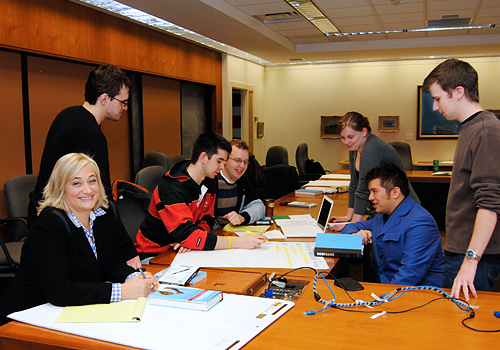 Maureen Mancuso with students in her fourth-year political science course.
Photo Credit: Amanda Lee Scott
For media questions, contact Communications and Public Affairs: Lori Bona Hunt, 519-824-4120, Ext. 53338, or lhunt@uoguelph.ca, or Deirdre Healey, Ext. 56982 or dhealey@uoguelph.ca.