Student Running to Raise Awareness, Money to Fight Global Hunger
February 10, 2011 - News Release
Hundreds of people from around the globe will visit the University of Guelph this month for the Universities Fighting World Hunger Summit, but only one of them is travelling 800 kilometres on foot to get here.
Joseph Henry, a graduate student at the University of Alabama (UAB), is running all the way from Washington, D.C., to Guelph to draw attention to the summit and cause. He will begin his journey in front of the White House today crossing through Maryland and Pennsylvania before cutting through the western tip of New York State into Canada.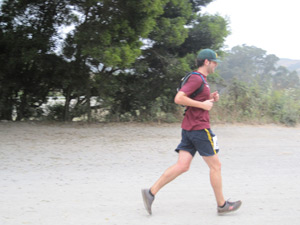 He chose Washington as a starting point because it's the centre for many international aid organizations and policies. He plans to run about 30 miles a day for 17 days. He will arrive in Guelph Feb. 25, the day the Universities Fighting World Hunger summit begins.
"This is an incredible thing that Joseph is doing," said Gavin Armstrong, a fourth-year commerce student who is co-hosting the summit with U of G president Alastair Summerlee. This is the first time the annual summit has been held in Canada.
"His journey will help raise awareness for both the hunger conference and the need for people to join together to find creative solutions to combating global hunger," Armstrong said.
Henry has named his journey "The Hunger 500," which is about how many miles he will cover. He hopes to raise $100,000 for the United Nations World Food Program along the way and will stop at other universities to talk to students, media and others.
"I hope to inspire others, particularly young people, to take action against hunger," said Henry, a master's student at UAB's School of Public Health.
"There is no bigger issue in the world than extreme hunger and poverty, and the solution requires involvement from every individual. The Hunger 500 makes a difference by showing others that they can take action against hunger."
Henry came up with the idea for the run after attending last year's hunger summit. "I was inspired by the people I met who were doing tremendous things in the fight against extreme hunger and poverty."
He's been running marathons and ultramarathons (about 50 miles) for a few years, but never anything like this. To prepare for this run, he trained for six months, lifting weights and working with a trainer. Accompanying him on his trek to Guelph are his father, Rick, a registered nurse, and another UAB student, Leslie Lloyd.
Joseph Henry admits that making such a journey in the middle of winter is a challenge. "The weather is definitely a concern of mine for the run, particularly with the unpredictable weather that has hit the area this winter. Fortunately, I have lots of great gear to keep me warm."
Henry's school and U of G are sponsoring his journey. To donate, sponsor him and/or follow him on his run, visit www.hunger500.org.
Universities Fighting World Hunger is an alliance of higher-education institutions. It started in 2004 as a partnership with the United Nations World Food Program and now involves more than 150 universities.
For media questions, contact Communications and Public Affairs: Lori Bona Hunt, 519-824-4120, Ext. 53338, or lhunt@uoguelph.ca, or Deirdre Healey, Ext. 56982 or dhealey@uoguelph.ca.