U of G Student Wins International Humanitarian Award
February 01, 2011 - News Release
A University of Guelph student has won the 2011 President William Jefferson Clinton Hunger Leadership Award.
Gavin Armstrong, a fourth-year commerce student, is the first Canadian to receive the international honour that recognizes the former U.S. president's commitment to humanitarian causes, especially eradicating hunger.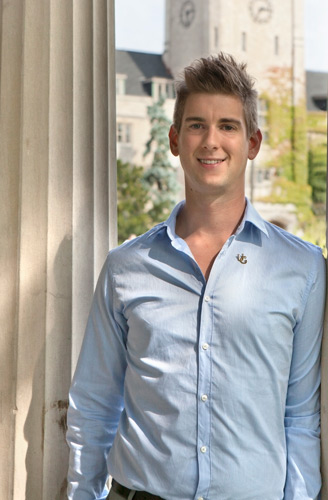 "This is wonderful recognition for Gavin and the entire University community," said president Alastair Summerlee, who is co-hosting the hunger summit.
"Gavin is passionate about finding ways to improve the world, which is also one of Guelph's distinguishing community values. He is an excellent example of how university students can help bring about change and make a difference through advocacy and commitment."
The Clinton award is presented annually by Stop Hunger Now, an international hunger relief organization, and the Centre for Student Leadership, Ethics and Public Service (CSLEPS) at North Carolina State University. It's given to a university student for leadership and commitment to a life of service in hunger eradication, poverty reduction or a related area.
CSLEPS director Mike Giancola said Armstrong was chosen to receive the award for bringing the international Universities Fighting World Hunger Summit to Canada for the first time in its six-year history. The event is being held at U of G Feb. 25 to 27.
"We are proud to recognize Gavin for his outstanding leadership in fighting world hunger and his dedication to educating others about how they can join the movement," Giancola said.
"We had several outstanding candidates, but overall the committee felt that Gavin's dedication to the cause as well as his potential to provide leadership in the future set him apart."
Previous award winners have come from North Carolina State University and Harvard University. Armstrong will receive the award during the Universities Fighting World Hunger conference.
"I was shocked and surprised to be the first Canadian recipient of this award," Armstrong said.
"Students across the world are actively engaged in the fight against hunger, and I am eagerly looking forward to having them come to Guelph. This is a great opportunity, and I'm proud to be a part of it."
The hunger summit will bring more than 400 people to campus, from university students and faculty to government and aid workers, politicians and social activists.
Armstrong is a student representative on the University's Board of Governors and serves on the BetterPlanet Project Steering Group. He was a student representative on the University Senate. He is also co-president of U of G's undergraduate chapter of Net Impact, an international non-profit organization that promotes leadership in business, and serves on the board of directors for the Masai Project.
For media questions, contact Communications and Public Affairs: Lori Bona Hunt, 519-824-4120, Ext. 53338, or lhunt@uoguelph.ca, or Deirdre Healey, Ext. 56982 or dhealey@uoguelph.ca.