U of G Names New Vice-President (Finance and Administration)
May 31, 2011 - News Release
The University of Guelph has named Don O'Leary, vice-president (administration) at Trent University, as its new vice-president (finance and administration), effective Aug. 2. The announcement was made today by president Alastair Summerlee, who chaired the search committee.
"Don has extensive experience as a university administrator and as a senior executive, and understands the many challenges of higher-education administration," said Summerlee.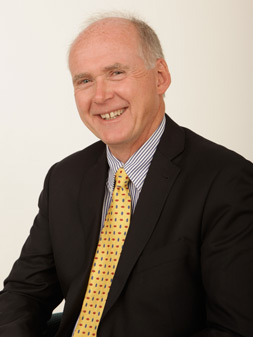 "He has a proven track record of accomplishments and a reputation for successfully dealing with difficult issues by engaging stakeholders in determining strategies and solutions. He will make an outstanding addition to the University, and we are very happy that he is joining our team."
At Trent, O'Leary has managed administrative and operational services, including financial services, human resources, information technology, physical resources, risk management (including health and safety, parking and security), athletics and several ancillary services. He reduced a significant accumulated operating deficit, developed a capital development strategic plan and worked closely with union groups to manage pension obligations.
At U of G, O'Leary will oversee diverse services supporting teaching, research and service, including financial services, human resources, campus community police, fire prevention and parking services, environmental health and safety, investment management, and the real estate division. He chairs the Council of Senior Administrative Officers (an affiliate of the Council of Ontario Universities) and is vice-chair of the Canadian University Reciprocal Insurance Exchange.
Earlier, as commissioner of corporate services for the City of Oshawa for 10 years, O'Leary oversaw numerous departments, including human resources, fire, real estate, legal, secretariat services and economic development. Previously, he was director of economic development for the City of Saint John, N.B., and vice-president at Continental PIR Communications. He graduated from the University of New Brunswick.
"I'm really looking forward to working at U of G, a university with a tremendous academic reputation," O'Leary said.
"On my visits to the campus this spring and in meetings with several employees, it's obvious everyone is very proud of U of G and understands they have a personal role in making learning at the University a great experience."
Summerlee thanked search committee members — U of G administrators and staff members and a Board of Governors representative — for their hard work and commitment.
For media questions, contact Communications and Public Affairs: Lori Bona Hunt, 519 824-4120, Ext. 53338, lhunt@uoguelph.ca, or Deirdre Healey, Ext. 56982, dhealey@uoguelph.ca.