Students to Take Aim at World Archery Championships
August 08, 2011 - News Release
Two University of Guelph students will travel to Poland this month to represent Canada at the 2011 World Youth Archery Championships. Kirsten Chuli and Katie Roth will compete against archers from 58 countries in the town of Legnica Aug. 22 to 28.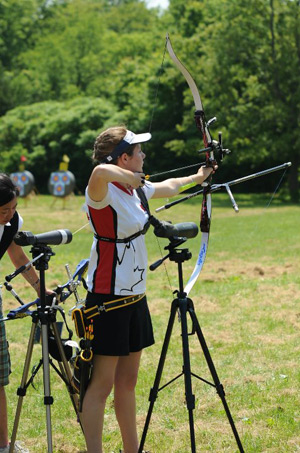 Kirsten Chuli
"I am beside myself with excitement," said Chuli, a third-year biological science student. "I've never been anywhere even near Europe before, so it's going to be a great experience. I'm looking forward to meeting people from all over the world."
She and Roth, a third-year sociology student, were selected for Canada's 18-member team following national team trials in Quebec last month. The world youth championships are held every two years; this is the first time Chuli and Roth have participated.
"I am thrilled to represent Canada in a sport that I have grown to absolutely love," Roth said. "It's taken hard work and dedication to get to this level of archery, and the reward of getting a chance to go to such a big event as the youth worlds in Poland has definitely boosted my confidence and mindset to do big things."

Roth has competed for 14 years — four of those internationally — in 3D archery. As in golf, 3D archers walk a course, shooting at targets from varying unknown distances and keeping track of their scores. Last week, she won a gold medal at the Canadian 3D Outdoor Championships in Saskatchewan.
This will be her first international competition in target archery. Roth will compete in the junior (under-20) female compound bow category. Chuli belongs to the three-person junior female recurve bow team, and will compete both with the team and individually.
Used in the Olympic Games, a recurve bow has tips that curve away from the archer when the bow is strung. The design allows a faster and more powerful shot. These bows come in a variety of weights, referring to how much force it takes to flex them.
"At the moment, I am pulling a 30-pound bow, meaning that when I have the string brought back to my face, I am holding 30 pounds' worth of weight," Chuli said.
Katie Roth
Roth will be pulling 50 pounds of weight on her compound bow. Heavier and shorter than recurve bows, compound bows have cables and pulleys to reduce the weight the archer holds at full draw. They build up considerable force, allowing for a more accurate shot, and are often used in hunting.

Roth started competing in target archery two years ago but began shooting at a young age. "My dad started competing and asked me if I wanted to join. So he bought me my first bow, and it has been a father-daughter activity for the past 14 years and counting," she said.
"The love of archery will stick with us in some shape or form for the rest of our lives, as this is what brought us close, and it is still our hobby and time well-spent together."
Roth's long-term goal in her sport is "to be safe, shoot straight and have fun, which is the most important aspect of archery for me. I also plan to put in the time and dedication to go as far as I possibly can in the world of archery."
Chuli has been shooting for seven years. "I joined my high school archery club because my mom said I had to join a club and get involved in high school. I figured a club that had bows and arrows couldn't be all that bad."
She didn't take to it right away. "I hated it for the first couple of months," she said, adding: "I couldn't hit the broad side of a barn for about the first year and a half.
"But I wasn't about to quit, because my three younger brothers thought having Robin Hood for a sister was pretty cool and I couldn't disappoint them, so I stuck with it and learned to love it."
Chuli has competed provincially for four years and nationally for two. She attended her first international competition, the Pan American Archery Championships, in Mexico last fall.

Her goal is rack up enough national and international experience to make the 2016 Olympic team. She'll be 25 by then. "The best archers in the world tend to be in their late 30s and 40s. It's really a lifetime sport; there are a lot of people who have been shooting for decades. Some of the members of my club are even in their 70s now."
For media questions, contact Communications and Public Affairs: Lori Bona Hunt, 519-824-4120, Ext. 53338, lhunt@uoguelph.ca; or Shiona Mackenzie, Ext. 56982, shiona@uoguelph.ca.