Trial Garden Hosts Open House
August 10, 2011 - News Release
The University of Guelph is holding its annual trial garden open house on Aug. 17 from noon to 8 p.m. at the Guelph Turfgrass Institute, 328 Victoria Rd. Free and open to the public, the event offers the greater Guelph community an opportunity to get a sneak peek at what's likely to appear in gardening centres next year. Guided tours will be available. Details are online.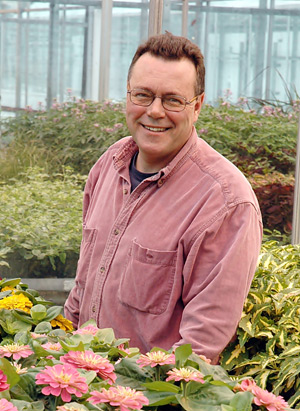 "Ongoing favourites in all areas, such as vegetables for small urban spaces, will be available, but there's also much to see that's new," said Rodger Tschanz, a U of G plant agriculture technician who manages the trial garden. "For instance, 'Romeo' is a new series of the popular diascia; it's an addition to last year's 'Juliet' series. There's a new tricolour corn that can be grown for popping or simply as an ornamental, and there are peppers that some suggest are attractive enough to be used as cut flowers. Perennial growers will be interested in the echinacea varieties that are more compact and have different colours, while among the annuals planted in the shade area adjoining the Frost buildings, the 16 cultivars of the New Guinea impatiens seem to get larger every year."
A second-generation black petunia with a more open and dramatic flower form has been trialled this year. Another striking plant is purple fountain grass, dubbed "Vertigo," with incredibly dark purple leaves, Tschanz said.
Also new to the trials are "combos," three cuttings pre-selected to be planted and sold together based on complementary vigour, form or colour. Members of the public can vote for a favourite "combo" and are encouraged to contribute to the information the trial garden provides to breeders by voting for favourite flowers overall.
Guelph and Wellington County master gardeners will be available throughout the day to provide information about the various plants and flowers and answer questions from visitors. The City of Guelph's healthy landscape team will also be there to answer questions about natural pest control and wise water use.
Located along the entrance to the Guelph Turfgrass Institute, the trial garden's 1,400 square metres of growing space allows gardeners to see what flowers and plants perform best in southwestern Ontario's climate. It's the only university-operated ornamental trial garden in the province and is part of a network of research centres across North America set up to determine which plants grow higher and fuller, bloom quicker, withstand extreme weather conditions and resist common plant diseases.
"There will be several twists on old favourites for visitors to enjoy, such as a white-flowered Joe-Pye weed," Tschanz said. "With beds and containers featuring sun and shade plants, annuals and perennials, vegetables, ornamentals and cut flowers, there is something for everyone."
Contact:
Rodger Tschanz
Trial Garden Manager
Department of Plant Agriculture
University of Guelph
519-824-4120, Ext. 52788
rtschanz@uoguelph.ca