U of G Hosts Men's National Wheelchair Basketball Team Training
August 04, 2011 - News Release
Canada's senior men's wheelchair basketball team is training at the University of Guelph this week. The team will play a public exhibition game against a British team Friday at 7 p.m. in the main gym at the W.F. Mitchell Athletics Centre.
Each year, Canadian athletes with disabilities try out for national men's and women's wheelchair basketball teams. Twelve athletes are selected for each team to represent Canada at tournaments around the world.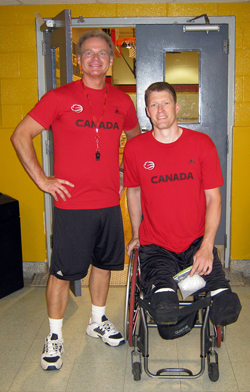 Head coach Jerry Tonello, left, with Patrick Anderson at the main gym in the Athletics Centre.
Patrick Anderson is one of the team's star players. He helped Canada win gold medals at the Paralympic Games in 2000 and 2004, and silver in 2008. Hailing from Fergus, Ont., he trained earlier at U of G.
"We wanted to do something in the Greater Toronto Area, and here we have access to a good gym, accommodations and food all in one place," he said. "We're training in Guelph for a couple of days and slowly ramping up for another big tournament next week with six other teams in Charlotte, North Carolina."
Anderson is excited about the Parapan American Games to be held in Mexico in November — a qualifier for the London 2012 Paralympics.
"It's like a mini Paralympics — there's always a fun, international multi-sport atmosphere. We spend a lot of time in gyms playing and watching basketball, so it's motivating and often inspiring to see what's going on at a multi-sport event, to watch some wheelchair rugby or hand cycling, find out what other Paralympic athletes are doing, and hear stories from other corners of the sporting world."
In particular, Anderson is intrigued by wheelchair tennis. He says it demands an amazing level of consistency and is a lot harder than it looks. He also hand cycles for cross-training and recreation. "At a competitive level, hand cycling is quite a growing sport. I'd like to check that out as well. For now, basketball takes up most of my time."
Both the women's and the men's national programs have received acclaim for their consistent achievements in international competitions and for their efforts to continually redefine high performance in wheelchair basketball.
"Summer is a busy time because that's when we have access to all our national team players," said Paul Zachau, the high-performance director for Wheelchair Basketball Canada (WBC). "Many of the athletes play in the U.S. college system or semi-professionally in Europe, which means they're not available to us as much as we'd like from October to May. We try to maximize the opportunity in the summer to get the team members together, because the teamwork aspect comes during these months."
Zachau said he's pleased that wheelchair basketball is one of the Paralympic sports identified by Own the Podium, a program to lead the development of Canadian sports. WBC has been fortunate to receive the support needed to allow the team to work together continually, he said.
"It isn't inexpensive to send teams to international tournaments, so funding is a vital component."
WBC is the national sports governing body for wheelchair basketball in Canada. With more than 2,500 athletes, coaches, officials and administrators across the country, WBC delivers programs and services to strengthen the sport from the grassroots to the Paralympic Games.