U of G Prof Hosts New Show in Guelph
August 25, 2011 - News Release
A University of Guelph professor emeritus has started an interactive interview series that will bring music, art, science and history (M.A.S.H.) together into a new kind of experience. Doug Larson, a biology professor emeritus, will host M.A.S.H. Mondays beginning Sept. 12 at the Manhattans Music Club in Guelph.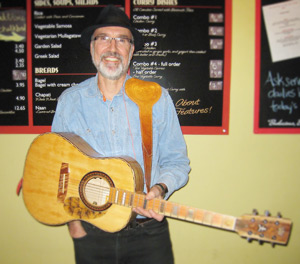 Influenced by the popular television shows Inside the Actor's Studio, Spectacle and Q, Larson says M.A.S.H. Mondays will allow his guests to share their creative background with the audience through spoken word, visual display and song. Larson will host people who, though recognized for other roles in society, harbour artistic depths that he intends to reveal and plumb.
"I want to remind everyone to revel in the aspects of life that don't necessarily earn us a living," Larson said. "We tend to focus on one skill set, define ourselves by that and place constraints on ourselves as a result. Nobody needs to be pigeonholed, nor should we discredit opinions or advice from people perceived to be outside a specific area of expertise."
Larson said that although the live-interview format may be familiar, his notion of combining the arts, science and history with a liberal dash of discussion and inspiration is new. "It's an experiment, and I'm going to do my best to make it exciting. I plan to ask probing questions and get the audience involved."
Manhattans and the Hillside Community Festival are co-sponsoring the show, which will take place on the first Monday of every month. The performance roster includes a number of guests connected with U of G: geography professor Barry Smit, who holds the Canada Research Chair in Climate Change; University Centre programming co-ordinator Sam Baijal; and former vice-president (research) Alan Wildeman, who is now president of the University of Windsor. In addition, Larson plans to interview celebrities such as Craig Norris, a CBC radio host and member of the local band The Kramdens; and Jay Ingram, an author and former host of Discovery Channel's Daily Planet.
A U of G faculty member since 1975, Larson recently published Storyteller Guitar, a book about how he built an acoustic instrument using natural materials gleaned from immigrants, entrepreneurs and researchers who lived in Guelph.
Contact:
Prof. Doug Larson
Department of Integrative Biology
519-824-4152
dwlarson@uoguelph.ca