U of G Prof Wins Grant to Study Adaptation to Climate Change in Vulnerable Communities
August 18, 2011 - News Release
Understanding the impact of climate change on vulnerable communities and how they adapt is the aim of a project led by University of Guelph geography professor Barry Smit, who holds the Canada Research Chair in Global Environmental Change.
Smit has been awarded a grant of nearly $125,000 by the Social Sciences and Humanities Research Council to extend his research on environmental changes in isolated, resource-dependent communities. He will work over the next three years with a group of colleagues, including U of G post-doctoral fellow Tristan Pearce.
Pearce, who completed both master's and PhD degrees at Guelph, worked previously with Smit on a similar project in the Arctic. "The SSHRC grant will further enhance the scope and impact of our research," said Pearce.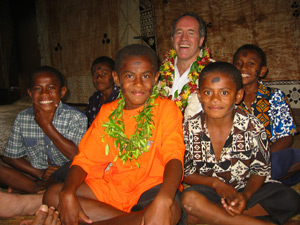 Their studies will focus on six coastal resource-dependent communities: three in Canada (Haida Gwaii, Labrador and the Northwest Territories) and three in the Pacific Islands (the Cook Islands, Fiji and Samoa). Smit said the six communities were selected because of their vulnerabilities and their interest in collaborating.
"Ultimately, these communities are on the front line and may indicate for the rest of us on the planet some of the effects of climate change, and also what adaptive measures succeed, or not, and why," he said.
Building on two decades of previous work, Smit's team will analyze and systematically compare the information they gather with theoretical expectations and natural science projections. This research program investigates multiple, intersecting factors existing in ever-changing circumstances in order to better understand society-environment interactions.
To grapple with this huge and dynamic issue, Smit has adopted a novel, albeit not unique, approach that does not assume we know the conditons that matter to people. Adopting strategies employed by anthropologists, Smit's team starts with people; the engagement of community stakeholders and leaders is fundamental to his research.
"The indigenous people are our partners in the research," he said. "Some of the ways we identify how the members of each community experience their changing conditions are by conducting focus groups, listening to their oral history, consulting written documents and then cross-referencing all this. We explore socio-economic and bio-ecological factors together."
There are language barriers and protocols related to gender and status, among others, which must be understood and respected. To open the door to communication with people whose culture is different from our own, Smit said, first requires establishing credibility and a mutually trusting relationship.
"In some communities there is a formal approval process before anyone will meet and speak with you. In others, you must take time to get to know people informally, and they you, before they will share their experiences with you."
Contact:
Prof. Barry Smit
Professor and Canada Research Chair in Global Environmental Change
Department of Geography
University of Guelph
Tel. (519) 824-4120 Ext. 53279
bsmit@uoguelph.ca