Prof's New App to Bring Shakespeare to the Masses
October 31, 2011 - News Release
What's in a name? That which we call an "app" . . . Four years ago, Prof. Daniel Fischlin envisioned an affordable content-rich multimedia device delivering literary classics to the digital generation. Now that Romeo + Juliet: The Shakespeare App is available for iPads, iPhones and iPods, the University of Guelph professor can be satisfied that Shakespeare is but a click away.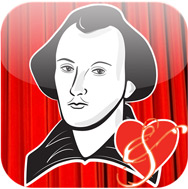 "I wanted to create a unique teaching and learning tool that appeals to the tech-savvy among us, and I'm relieved that the app passed Apple's rigorous review process," Fischlin said. "I'm also keenly aware of how much more there is to do in terms of making it accessible on other software platforms."
Fischlin, University Research Chair and professor in the School of English and Theatre Studies (SETS), worked with student research assistants and members of the Guelph IT community to develop Romeo + Juliet: The Shakespeare App.
"When I launched the Canadian Adaptations of Shakespeare Project (CASP) in 2004, I recognized the fact that youth spend significant amounts of time in digital environments not always geared toward quality content or learning in positive ways," he said. By 2007, I felt that something more interactive would be interesting for young people, and the app grew from there."
The Romeo + Juliet application offers note-taking and share functions as well as images for challenging words, making it ideal for Shakespeare neophytes, said Fischlin.
"It's organized in a user-friendly interface that can appeal to students, teachers and performers alike. With the app, you can watch videos of set designers, dramaturges, critics and playwrights talking about the play from their own perspectives, and all the source texts Shakespeare used to write the play are also available in digital format. This app probably offers the most complete media-rich version of Romeo and Juliet ever created. It is intended to provide a template not only for Shakespeare's works but also for just about any other text."
Romeo + Juliet: The Shakespeare App is available online.
Shakespeare's writing is so embedded in our cultural fabric that when media technologies change and evolve, new ways of relating to the Bard are sure to follow closely behind, say the organizers of a public conference taking place at U of G tomorrow.
"Outerspeares: Transcultural/Transmedia Adaptations of Shakespeare" is the first annual conference of the Guelph Early Modern Society, a collaboration among SETS students and faculty, the SETS Visiting Speaker's Committee, the Central Student Association, the School of Languages and Literatures, the College of Arts and CASP.
Keynote speakers are Anthony Del Col, Connor McCreery and graphic novel artist Andy Belanger, co-creators of the Kill Shakespeare graphic novel series; and Tom Magill, director of Mickey B, an adaptation of Macbeth with a cast of prison inmates from Northern Ireland.
The conference will be held in Peter Clark Hall Nov. 1 from 9 a.m. to 5:30 p.m.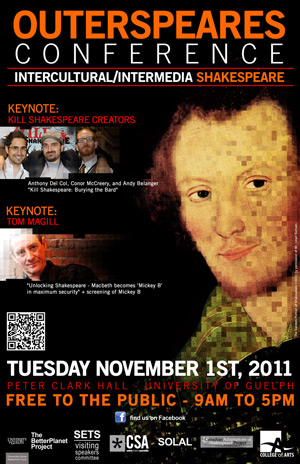 Contact:
Daniel Fischlin
School of English and Theatre Studies
University of Guelph
519-824-4120, Ext. 53267
dfischli@uoguelph.ca