Campaign Thanks Great Profs, Highlights Undergrad Teaching
February 03, 2012 - News Release
Prof. Maureen Mancuso knows first-hand about the power of great teaching. As a shy university student, she was reluctant to join in discussions — until her history professor praised her writing and encouraged her to speak up in class.
A couple of decades later, Mancuso teaches political science, serves as the University of Guelph's provost and vice-president (academic), and has received a prestigious 3M National Teaching Fellowship, Canada's top teaching honour.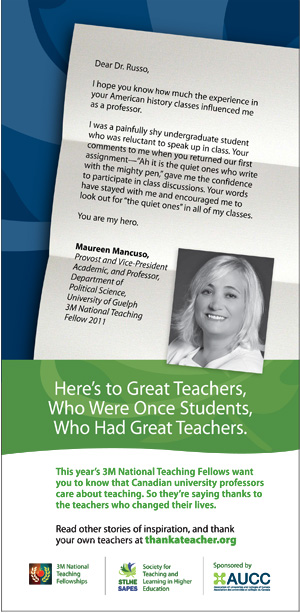 Now she and other 3M winners plan to honour college and university teachers who motivated them, and they hope to inspire others to do the same.
Under a new "Thank Your Great Teacher" advertising campaign, the 2011 3M winners will write thank-you notes to their most influential professors, to be published in Globe and Mail ads beginning this weekend.
Other students and teachers may post their own messages to inspirational college or university teachers on a new website called www.thankyourteacher.ca.
"Our goal is to draw attention to the importance of undergraduate teaching and the impact that it can have on students, both individually and collectively," Mancuso said.
"Whether it's through opening their eyes to new ideas or providing encouragement and motivation, a teacher can truly change the direction of a person's life."
In her letter, tentatively scheduled for publication Feb. 11, Mancuso thanks McMaster University history professor David Russo.
She writes: "Your comments to me when you returned our first assignment — 'Ah, it is the quiet ones who write with the mighty pen' — gave me the confidence to participate in class discussions. Your words have stayed with me and encouraged me to look out for 'the quiet ones' in all of my classes."
The campaign is supported by the Society for Teaching and Learning in Higher Education and the Association of Universities and Colleges of Canada.
"University professors care about teaching," Mancuso said. "We hope that this effort starts a wave of gratitude for the importance of undergraduate learning and inspires students, parents and other teachers."
Mancuso is U of G's 14th 3M Fellow. Since 1986, about 250 Canadian professors have received 3M awards, including U of G president Alastair Summerlee.

For media questions, contact Communications and Public Affairs: Lori Bona Hunt, 519-824-4120, Ext. 53338, or lhunt@uoguelph.ca, or Shiona Mackenzie, Ext. 56982, or shiona@uoguelph.ca.