Undergraduate Research Journal Surges Forward
June 28, 2012 - Campus Bulletin
Effects of land fragmentation in southern Ontario, food price behaviour and nutrition in the developing world, and an analysis of Mexico's most controversial president are among topics covered in the 10th edition of the University of Guelph's electronic journal of undergraduate research.
SURG (Studies by Undergraduate Researchers at Guelph) highlights studies by undergraduate students from all disciplines on campus and introduces students to academic publishing.
The current issue was recently released online and contains 10 peer-reviewed papers.
The refereed publication was developed by the Office of Research with the McLaughlin Library. It involves students and an advisory board with some of the University's top researchers.
"This 10th issue of SURG upholds the fine tradition of scholarship among our undergraduate students," said Prof. John Livernois, interim associate vice-president (research services).
"The scope and depth of the contributions in this issue provide a testament to the quality of our students and the potential for research experiences in our undergraduate programs. Whether building on a passion for an idea or subject, or providing experiences ahead of graduate studies, SURG is an important aspect of undergraduate research."
The journal accepts original research articles and reviews, primarily based on summer work and fourth-year thesis and research courses. Submissions are encouraged from all disciplines.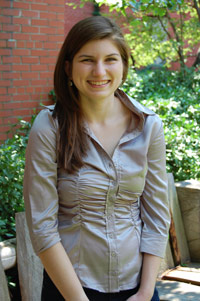 Anita Acai, a fourth-year BSc. Biochemistry student and President's Scholar, was recently named SURG's editor-in-chief. She works as a co-op student in the lab of Prof. Nina Jones, Molecular and Cellular Biology, and is a peer helper for writing services in the Learning Commons. Last year she co-ordinated Conversation Partners, an on-campus program that matches ESL students with English-speaking volunteers to help them develop social connections and improve their English skills.
Original research papers and literature reviews for SURG are due by Sept. 25 for the fall 2012 issue.
For more information, visit the journal's website.