U of G Librarian Wins Prestigious Provincial Award
September 18, 2012 - News Release
A University of Guelph staffer has been named among Ontario's most outstanding university librarians by the Ontario Confederation of University Faculty Associations (OCUFA).
Jim Brett, U of G's user services librarian, was one of two librarians and five Ontario professors to earn OCUFA Teaching and Academic Librarianship Awards this year. Winners will attend a ceremony in Toronto Oct. 27.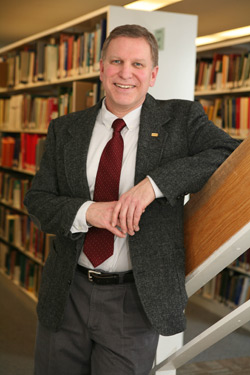 "It's a testament to Jim's forward-looking perspective and user focus that he is being recognized with this prestigious OCUFA award," said Rebecca Graham, CIO and chief librarian. "It's also a crucial reminder of the value that librarians and libraries continue to provide to universities."
Brett manages and delivers an ever-growing range of reference services. In his award nomination package, colleagues described him as "truly a man of vision who always seeks way to materialize and implement novel ideas to keep our library and its resources at the forefront of technology and science."
Said Zopito Marin, OCUFA awards chair: "The committee noted how faculty members at Guelph consider Jim a true colleague and that librarians consider him a leader and mentor."
Brett said: "It's always a great feeling when your contributions are acknowledged by your peers. To have the recognition from OCUFA is especially valued, given the respect I have for the organization and their support for academic librarians in Ontario."
OCUFA represents more than 17,000 university faculty and academic librarians in Ontario. It has celebrated outstanding achievement in teaching and librarianship at Ontario universities since 1973.
"Librarians play a very important role in university communities," said OCUFA president Constance Adamson, a librarian at Queen's University. "Our award winners exemplify how librarians provide outstanding support to their students and faculty colleagues."
This is the second major award for Brett this year. In June he received the President's Award for Exceptional Service from the Ontario Library Association.
Brett studied botany and plant systematics at U of G before completing a master's degree in library and information sciences at the University of Western Ontario. He joined the University in 1984.

For media questions, contact Communications and Public Affairs: Lori Bona Hunt, 519-824-4120, Ext. 53338, or l.hunt@exec.uoguelph.ca; or Shiona Mackenzie, Ext. 56982 or shiona@uoguelph.ca.