Web Design Guidelines
These guidelines provide information to campus web designers and developers and external agencies involved in the creation of official University of Guelph web pages. Web sites developed for colleges, departments or other units of the university are considered official web sites. Web publishers are responsible for the content of the pages they publish and are expected to abide by the highest standards of quality, consistency and responsibility.
Accessibility
The University of Guelph is committed to ensuring that our website is accessible for all users, regardless of any disability they may have or the technology they use. Official University of Guelph websites must be compliant with all Priority 1 checkpoints from the World Wide Web Consortium (W3C) Web Content Accessibility Guidelines.
Copyright
Audio, images, text or video footage may only be used after confirmation of permission-to-use from the medium's copyright holder.
Official webpages should identify that materials are © University of Guelph
Contact Information
Each page should include either a contact email, or a link to a contact information page for the person maintaining the site or the person responsible for the site's information. Providing both contacts may be necessary depending on the nature of the website. A contact phone number should be included on all main pages.
Sponsor & Donor Recognition
Any web based sponsor or donor recognition must receive written approval from the relevant department and Communications and Public Affairs and include no links to the sponsor or donor's website.
Screen Resolution
Pages should be designed to look appealing at 800x600 and 1024x768 resolutions
Pages should be accessible at all resolutions
Browser Compatibility
All webpages should be created using valid XHTML and CSS
Avoid using browser specific mark-up
Content and navigation should be accessible to text-only browsers
Flash & Shockwave
Macromedia Flash and Shockwave allow developers to create interactive, multimedia rich websites for their visitors. Developers who wish to include use Flash, Shockwave content on official University of Guelph websites must:
Follow the Accessibility Guidelines posted by Macromedia
Ensure the primary content and navigation of the website is available to users who do not have the Flash or Shockwave plugins
Make text available for all audio containing substantive spoken content
A text-only version of the webpage should be provided with equivalent information or functionality, when accessibility cannot be accomplished in any other way
PDF Documents
Adobe Acrobat (PDF) files preserves document layout so files can be viewed and printed consistently on a variety of platforms. Web authors may wish to use PDF files must:
Follow the Accessibility Guidelines posted by Adobe
Ensure essential content is available to users who do not have the Acrobat plugin
Title & Meta Tags
The "title" tag is required on all webpages and should generally follow the format
<title>Page Title | College/Department Name</title>

Tip: This title will become the link to the webpage when it is found through a search engine such as Google. Using text such as "Welcome to..." or "...Homepage" is not necessary.

Identification meta tags including description, keywords and author are also recommended

The "author" meta tag for official University of Guelph webpages should be
<meta name="author" content="The University of Guelph" />
Inappropriate Content
The following types of content should not be included on official University of Guelph webpages:
Counters

Visible page counters, or page counting services from external organizations should not be used. Information on website statistics is available from http://www.uoguelph.ca/webcentral

Under Construction Messages

Under Construction messages or images may not be used on official websites. Groups publishing official websites must make the commitment to keep the information on any published pages current.
University of Guelph Identifier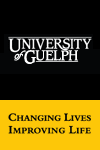 The University of Guelph Identifier is the graphic symbol of the University, readily recognizable wherever it is used. A source of pride and an indicator of quality, its use in printed and electronic formats should represent excellence and the distinctive character of the University of Guelph.
The University's trademark Identifier is intended to be a stand-alone logotype and should take precedence over other logos developed and used by internal campus units. The Identifier must be used with consistency and as a component of good design; always maintain the clarity and integrity of the University Identifier.
When used on the same page with other logos, the images should be separated by as much space as possible and accompanied by text that clearly articulates the relationship between the organizations represented, i.e. co-sponsors, joint academic partners, research collaborators.
The Identifier should not be used to promote an event, group or service that is not officially sponsored by the University of Guelph even though they may be held on campus.
The University of Guelph protects its visual identity through registration under the Canada Trademarks Act. No person may use any trademark identical to, or confusingly similar with its trademarks and official marks without written approval from the University of Guelph. To submit a request, contact the Director of Communications and Public Affairs, 519-824-4120, Ext. 56582.
---
Questions or comments about these guidelines should be directed to the University of Guelph's Web Management.