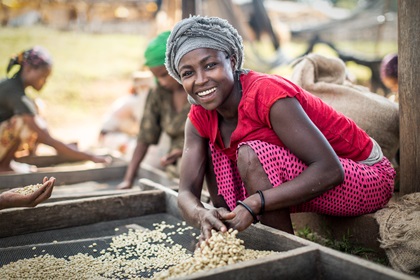 Ethical Purchasing at the University of Guelph
The University of Guelph has long believed that its dealings with suppliers should reflect the institution's recognition that consumer decisions have an impact on those involved in production. Therefore, the University's Board of Governors approved a Code of Ethical Conduct for Suppliers and Subcontractors in Relation to Working Conditions and Employment Standards [1] (the Code).  Want to learn more? Review our power point presentation.
Supplier Verification of Compliance (SVC) form
Effective November 1, 2016, the University of Guelph will require all suppliers fulfilling the University's purchase orders for apparel products to complete a compliance verification process by completing the Supplier Verification of Compliance Form in accordance with the Code. All departments are encouraged to source their apparel products from this supplier list. If your preferred supplier does not appear on this list, departments are required to ask the supplier to complete the Supplier Verification of Compliance Form prior to issuing the purchase order.
---
*The following suppliers have submitted the Supplier Verification of Compliance Form to the University of Guelph and completed the University's Code of Ethical Conduct compliance verification process.  
Crystal Brady [3]
877-632-3755
---
Darren Wood [5]
(604 )552-7671
---
Brand Blvd [6]
Ryan Kirkwood
(905)682-0001
ap@brandblvd.ca [7]
---
Melwyn D'Silva [9]
416-781-0011 x225
---
Catfish Calhoun Inc. [10]
Mike Van Berlo [11]
905-688-6100 x230
---
Catalyst Group [12]
Ph.905-629-7378
Attn: Robyn Tomlins [13]
---
​C [14]lick Signs Inc. [15]
Tricia Galvez [16]
519-524-4120 x58031
---
Lesley Salamone [18]
519-766-1900
---
Chad Currah [20]
289-201-1862
---
Force Sports  [21]
Dave Martin [22]
416-769-9796
---
Hockey Shop Source for Sports [23]
Todd Gumbley [24]
519-836-8631
---
M.A. Jessa [26]
416-736-4261 x225
---
---
Marc's Commercial [27]
Andy Dabydeen [28]
416-480-3207
---
New Era Cap Company [29]
Ken Haqq [30]
416-240-9991
---
Premium Sportswear & Promotions Inc. [31]
Jason Albert [32]
519-787-5168
---
---
​Promo Hound Inc. [33]
Monica Young [34]
519-752-7000
---
Steve Bryant Golf Ltd.
Steve Bryant [35]
---
Varsity Collection/SC International Enterprises Inc. [36]
Amy Leung [37]
604-707-1089