Homogenization Mechanism
Auguste Gaulin's patent in 1899 consisted of a 3 piston pump in which product was forced through one or more hair like tubes under pressure. It was discovered that the size of fat globules produced were 500 to 600 times smaller than tubes. There have been over 100 patents since, all designed to produce smaller average particle size with expenditure of as little energy as possible. The homogenizer consists of a 3 cylinder positive piston pump (operates similar to car engine) and homogenizing valve. The pump is turned by electric motor through connecting rods and crankshaft.
To understand the mechanism, consider a conventional homogenizing valve processing an emulsion such as milk at a flow rate of 20,000 l/hr. at 14 MPa (2100 psig). As it first enters the valve, liquid velocity is about 4 to 6 m/s. It then moves into the gap (see below) between the valve and the valve seat and its velocity is increased to 120 meter/sec in about 0.2 millisec. The liquid then moves across the face of the valve seat (the land) and exits in about 50 microsec. The homogenization phenomena is completed before the fluid leaves the area between the valve and the seat, and therefore emulsification is initiated and completed in less than 50 microsec. The whole process occurs between 2 pieces of steel in a steel valve assembly. The product may then pass through a second stage valve similar to the first stage. While most of the fat globule reduction takes place in the first stage, there is a tendency for clumping or clustering of the reduced fat globules. The second stage valve permits the separation of those clusters into individual fat globules.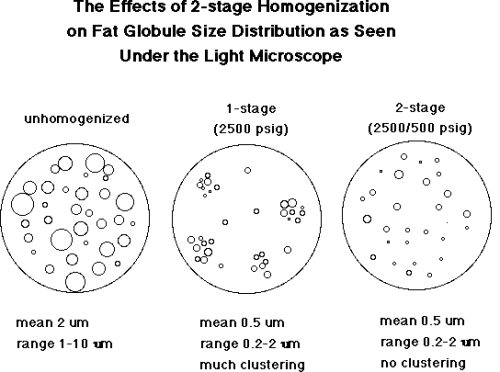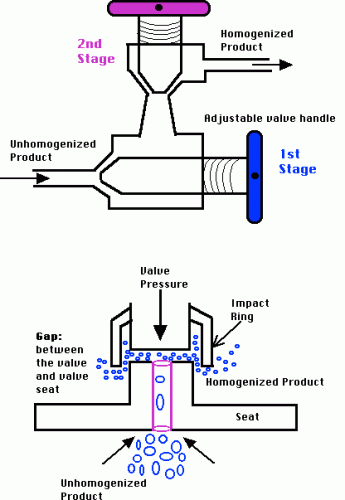 It is most likely that a combination of two theories, turbulence and cavitation, explains the reduction in size of the fat globules during the homogenization process.
Turbulence 
Energy, dissipating in the liquid going through the homogenizer valve, generates intense turbulent eddies of the same size as the average globule diameter. Globules are thus torn apart by these eddy currents reducing their average size.
Cavitation 
Considerable pressure drop with change of velocity of fluid. Liquid cavitates because its vapor pressure is attained. Cavitation generates further eddies that would produce disruption of the fat globules. The high velocity gives liquid a high kinetic energy which is disrupted in a very short period of time. Increased pressure increases velocity. Dissipation of this energy leads to a high energy density (energy per volume and time). Resulting diameter is a function of energy density.
In summary, the homogenization variables are:
type of valve
pressure
single or two-stage
fat content
surfactant type and content
viscosity
temperature
Also to be considered are the droplet diameter (the smaller, the more difficult to disrupt), and the log diameter which decreases linearly with log P and levels off at high pressures.