Access
Ramp and auto door entrance to the rear of the building near the Science Complex
Elevators
Elevator located near accessible entrance
Washrooms
P44 off Winegard Walk
Parking
Accessible unisex washroom on first floor near accessible entrance
President aptly describes John MacLachlan's (1906-1987) role on campus. After completing his PhD in plant pathology, MacLachlan came to Guelph as an assistant professor of botany at the Ontario Agricultural College. He became head of the Department and following that, President of OAC. Without MacLachlan, it is possible the University would not exist today, for he was the driving force that encouraged the integration of the three founding colleges.
In 1964, after much government resistance, the University of Guelph was created and MacLachlan was named its first President. He believed strongly in balancing the roles of the founding colleges with the need to be at the forefront of change – a vision that is still represented at the University today, more than 40 years later. The building was originally built in 1902 for biology, geology, physics and the College Museum.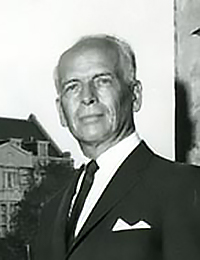 John Douglas MacLachlan 1906-1987
President, Ontario Agricultural College, 1950-1962
President, Federated Colleges, 1962-1964
President, University of Guelph, 1964-1967

John Douglas MacLachlan was born in 1906 on a dairy farm near Burrit's Rapids, Ontario. After completing his BA in chemistry and biology at Queen's University, he attended Harvard University, receiving an MA in 1933 and a PhD in plant pathology in 1935. He returned to Canada in 1939 to take up the position of assistant professor of botany at the Ontario Agricultural College. An inspiring teacher and a brilliant researcher, MacLachlan rose quickly through the ranks to head the Department of Botany in 1948. In 1950, he was named president of the Ontario Agricultural College.
During MacLachlan's tenure, there was an increased emphasis on rural society, a deepened commitment to science, research and intellectual growth, and growing internationalism. He proposed integration of the Ontario Agricultural College, the Ontario Veterinary College and Macdonald Institute. The Federated Colleges, with MacLachlan as president, were created in 1952, with a dean for each college and a Board of Regents to oversee the federation.
For many years, the government had resisted the pursuit of university status for the Ontario Agricultural College. Finally, in 1964, the government introduced the bill to create the University of Guelph and named MacLachlan its first president. In 1956, the University of Toronto conferred a Doctor of Laws degree on MacLachlan in recognition of his role in directing the founding colleges to university status with wisdom and tact.
The contributions MacLachlan made both as an academic and president were numerous. At his installation as the first president of the University of Guelph, he spoke of the need to balance the traditional role of the founding colleges with the need to be at the forefront of change. MacLachlan's skill and vision in finding this balance assured a strong beginning for the University of Guelph.
MacLachlan Building 1902
This plaque is located outside to the right of the entrance of MacLachlan Building.