U of G Hosts International Farm Animal Welfare Conference
August 02, 2011 - News Release
Animal welfare experts from around the globe will gather at the University of Guelph Aug. 8 to 11 for the fifth International Conference on the Assessment of Animal Welfare at Farm and Group Level (WAFL).
The event, hosted by U of G's Campbell Centre for the Study of Animal Welfare (CCSAW), is expected to attract almost 300 people from Europe, Asia, South America, New Zealand, Canada and the United States. They'll discuss existing and emerging welfare assessment methods, including those used in zoos and laboratories.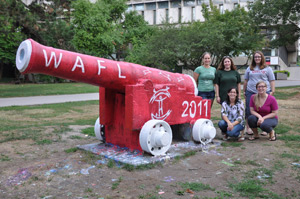 "Consumers, food retailers and regulatory agencies are increasingly requiring formal assurances about the way that animals are cared for. This is resulting in animal welfare audits in animal agriculture and in other industries in which people use animals," said Prof. Tina Widowski, chair of the scientific committee and co-organizer of WAFL 2011.
"While the word 'welfare' may mean many different things to many people, there is underlying science, and we're here to explore that. Objective criteria and protocols can be and, in fact, are being developed around the world."
Widowski said she hopes the conference will help broaden animal welfare assessments to include environmental and social aspects. "Consideration not only of the effects of these welfare assessments on animals but also of their impacts on and benefits for people is where we're headed."
As CCSAW director and a professor in the Department of Animal and Poultry Science, she studies effects of housing and management practices on the behavioural biology and welfare of farm animals. She was recently named the Egg Farmers of Canada Research Chair in Poultry Welfare.
CCSAW was the first Canadian centre for conducting research on improving quality of life for animals. The internationally recognized centre is a hub for research and teaching, and for international partnerships with industry and government.
Conference sponsors include the Ontario Ministry of Agriculture, Food and Rural Affairs; Agri-Food and Rural Link; the Canadian Food Inspection Agency; the Canadian Pork Council; Chicken Farmers of Canada; Dairy Farmers of Canada; Dairy Farmers of Ontario; Egg Farmers of Canada; and IceRobotics.
"We are encouraged by the tremendous interest and financial support from food animal industries, government and professional associations," Widowski said.
More information and registration details are available online.
Contact:
Prof. Tina Widowski
Department of Animal and Poultry Science
University of Guelph
519-824-4120, Ext. 52408
twidowsk@uoguelph.ca
For media questions, contact Communications and Public Affairs: Lori Bona Hunt, 519-824-4120, Ext. 53338, lhunt@uoguelph.ca; or Shiona Mackenzie, Ext. 56982, shiona@uoguelph.ca.