The first time Guelph alumni were asked to contribute significantly to the support of their alma mater was in 1919 when they were asked to donate $60,000 toward the cost of building War Memorial Hall. The provincial government donated $40,000 to the project, which came to fruition because of suggestions by students that the Ontario Agricultural College should build a memorial to the 109 college men who lost their lives in World War I.
Students wielded saws and axes against a stand of Norway Spruce to ensure that the building would stand on its present site and held a series of concerts to raise funds. Built of Georgetown limestone, War Memorial Hall opened in June 1924. Two bronze tablets face each other in the Memorial Chapel; one bearing the names of the 109 fallen men, the other remembering those who died in the Second World War. The hall quickly became a cultural centre for the city as well as the site of OAC's annual convocation ceremonies.
The example of War Memorial Hall and the good it brought to the campus may have influenced alumni giving in later years. A scholarship endowment fund created in 1959, the 1966 Development Fund that supported the establishment of the University of Guelph, and the University's last major capital campaign in 1986 all received broad alumni support.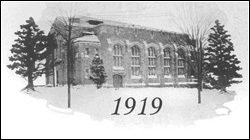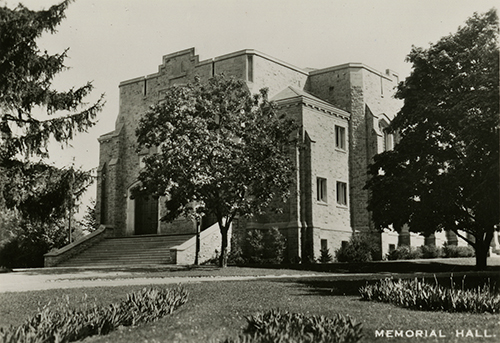 First image: War Memorial Hall, 1919. Second image: War Memorial Hall.