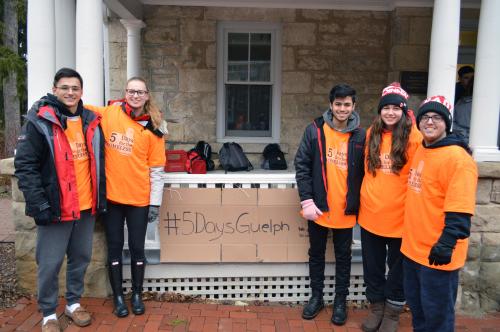 The University of Guelph's College of Business and Economics Students' Association (CBESA) [1] has raised more than $10,000 for at risk youth through its 5 Days for the Homeless campaign. From March 13 to 18, five student volunteers (aka "sleepers") lived without shelter, shower, regular access to food and other modern amenities to raise awareness of homelessness as well as funds for Guelph's Wyndham House [2].
To take part in the campaign as a sleeper, students are required to apply through the CBESA and take part in a selection process. In addition to collecting donations and speaking to others about the campaign, they also chronicle their experiences through a blog [3] where they discuss the lessons they learn and how their perspectives on homelessness change. According to CBESA president Ashwin Lal, who is also a former sleeper, participating in the campaign reminds people of just how lucky they are.
"In my opinion, one of the greatest things someone can learn from the 5 Days for the Homeless campaign is to appreciate everything they have," he said. "When I was a sleeper three years ago I learned to not take the things that I have in my life for granted, whether it be walking into a warm house, being able to cook a warm meal, or even having somewhere to sleep at night."
Since starting in 2005 at the University of Alberta, the 5 Days for the Homeless campaign has grown into a national movement that involves 26 schools from across Canada. By 2015, more than $1.6 million had been raised throughout the campaign's 10-year run for various organizations that support at risk youth.
Congratulations to this year's sleepers, Sarah Shepherd, Petar Radic, Jared Ropchan, Taylor McNeely and Zeeshan Shaikh and the CBESA on a great campaign. To learn more, visit the 5 Days for the Homeless website [4].