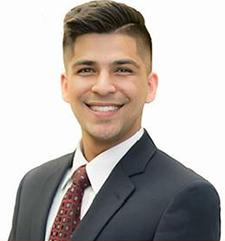 For College of Business and Economics Students' Association (CBESA) president, Ashwin Lal, student leadership has been a passion since middle school, so it's fitting that he would find himself immersed in extra-curricular activities throughout his time at the University of Guelph. Now entering his final year, Lal is looking forward to starting his career in sales, but before he crosses the convocation stage, he has a busy year ahead with the CBESA that will bring many opportunities for all business students to work, play and succeed.
In this Q&A, Lal discusses his university experience and gives advice to new students looking to make the most of their university years.
Ashwin Lal
Hometown: Mississauga (Born in Kingston, Ontario)
Major: Marketing Management
Year: 4th
Why did you choose to pursue your Bachelor of Commerce in marketing management at the University of Guelph?
I chose the University of Guelph because the extra-curricular programs it offers. My brother was the president of the Canadian Association of Business Students (CABS) at the time, so he had put me in touch with the presidents of each university I was accepted to. Jena Mesih (The former president of the CBESA) had me sold within minutes. She told me all about the CBESA, and told me a lot about JDCC, because she knew I was a part of DECA in high school. I had chosen marketing management specifically because sales has always been my forte, and this program overlaps with the sales industry the most out of all programs offered here.
What has been your favourite part of U of G so far?
My favourite part about the U of G so far is the people. I know it sounds cliché, but getting involved and meeting people all over campus is truly one of the most valued parts of my university career. When I look back on my first, second and third year, I remember the experiences, the friends I made, and most importantly the risks I took to be where I am now. 
As president of CBESA, you have a busy year ahead of you. What are you most looking forward to?
Ah, this is a hard question, since there are a few things I am "most" looking forward to. My most important initiative this year is the creation of the Guelph Business Conference Committee (GBCC). The point of the GBCC is to assist students in attending conferences and competitions. I have had the opportunity to attend numerous conferences, where I have met some of the most brilliant minds in Canada. I want every business student to attend at least one conference in their university career, and the GBCC works as an organization to subsidize costs, create opportunities and assist university students to be ready for networking in the real world.
How did you get started in student leadership?
I got involved with my student body at the age of 11. I had been the president of my middle school, and was a grade rep throughout high school. In Grade 12 I wanted to do something new, and spent the majority of my time on DECA. I really wanted to place, and I made it to ICDC (Internationals) in Salt Lake City, Utah. When I came to Guelph, I applied to become a part of the CBESA and have since been involved as a Street Team member, Street Team manager and director of marketing.
What do you enjoy most about being a student leader?
I've continued to be involved in student life because I love meeting people. Whether it's meeting other student association presidents from all over Canada, or meeting a first year that needs help on campus, each and every single person I have met is someone different, and that's something that I find to be pretty cool.
What advice do you have for students looking to get involved at U of G?
Put yourself out there, and I know I'm not the only who will tell you this. I know many graduating students who wish they had gotten involved more. Make these next four years of your life memorable. The best way to get involved is to live a balanced life – you need to find a way to Work, and to Play, so that you can Succeed.
If you could provide three pieces of advice to new students, what would those be?
Three pieces of advice that I would offer to students are:
Network. On your first day of class, you will likely sit with someone you met during O-Week, or someone you went to high school with. But in every direction around you there will be many new faces. Talking to even one of these people can impact your life more than you know, or you could impact their life more than you would think. No matter what, networking is a necessity; it's what will be your competitive advantage in the future.
Stay organized. Every day you will wake up with something to do, whether it's an assignment, a reading, a test, or whatever it may be. Getting ahead of the game is something every student struggles with. Do not bite off more than you can chew; if you have something due, get it done - don't say tomorrow, don't say next week, because if you procrastinate everything adds up.
Branch out and discover your potential. In first year I definitely made mistakes, but I had another three years to learn from them and make myself who I am today. I couldn't be happier with the choices I made, and a lot of it is because I began to seek help from mentors, and people who were a part of the CBESA. I never thought I had what it took to become president, but every predecessor of mine told me to run. Without proper guidance it's very easy to stray away from the path you think is successful, but if you find yourself surrounded by the right people, who continue to motivate you, you'll find your way.