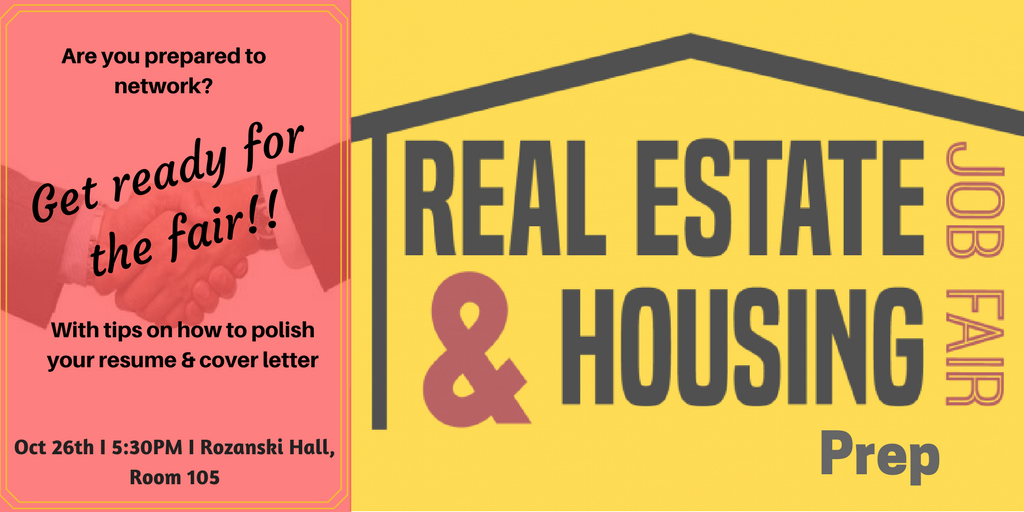 This Career workshop is in preparation for the upcoming Job Fair on November 1st!! Learn how to effectively navigate and network with employers before attending the Careers in the Real Estate Industry Networking and Job Fair. This is an excellent opportunity to gain confidence for meeting with employers and bringing your best self to this event.  At the job fair you will network with employers, build your connections, and learn about exciting co-op, part time, full-time, contract and upcoming positions within the real estate and housing industry. Many employers in attendance have opportunities posted on Recruit Guelph that you can research prior to the day of the Fair. 
Find out what to do and what to say when you get there, plus what to bring!! Get tips on how to polish your existing resume and cover letter so that it stands out when applying for jobs! All the tools you need to shine are within your grasp. Register today!!
Students of all years and programs are invited to attend this Fair *this is not just for students in the Real Estate and Housing major*
To register for the workshop, visit the Recruit Guelph [1] website.  Space is limited.
A minimum of 6 students is required in order to run the workshop. Students will be notified via email if the workshop is cancelled due to low registration numbers. If you have registered and are no longer able to attend, please cancel 48 hours in advance via Recruit Guelph.
 
 
About the Business Career Development Centre
The Business Career Development Centre offers tailored career assistance to business students at the University of Guelph. It provides access to workshops, events and services including mentoring and networking opportunities, one-on-one career coaching, and assistance building your professional online presence. For more information, visit the Business Career Development Centre web page [2].