Location:
Cutten Fields in Guelph, 190 College Ave E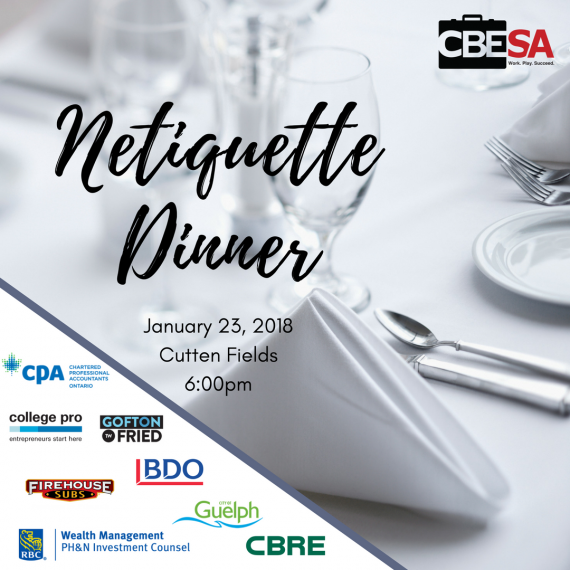 Ever wonder what its like to dine with real business professionals? Think you have the necessary etiquette skills to get by in the business world?
The CBESA is hosting their annual Netiquette Dinner to teach you all the in's and out's of business etiquette dining. Join CBESA and other Guelph Business students for a night filled with fun and great advice brought to you by an etiquette coach with years of experience! There will also be representatives from RBC PH&N Investment Counsel, CPA, BDO, Gofton Fried, College Pro, the City of Guelph, Firehouse, and CBRE present for networking opportunities throughout the entire evening.

Tickets are $25 each and can be purchased at the CBESA's Registration page [1].
About the Business Career Development Centre
The Business Career Development Centre offers tailored career assistance to business students at the University of Guelph. It provides access to workshops, events and services including mentoring and networking opportunities, one-on-one career coaching, and assistance building your professional online presence. For more information, visit the Business Career Development Centre web page [2].