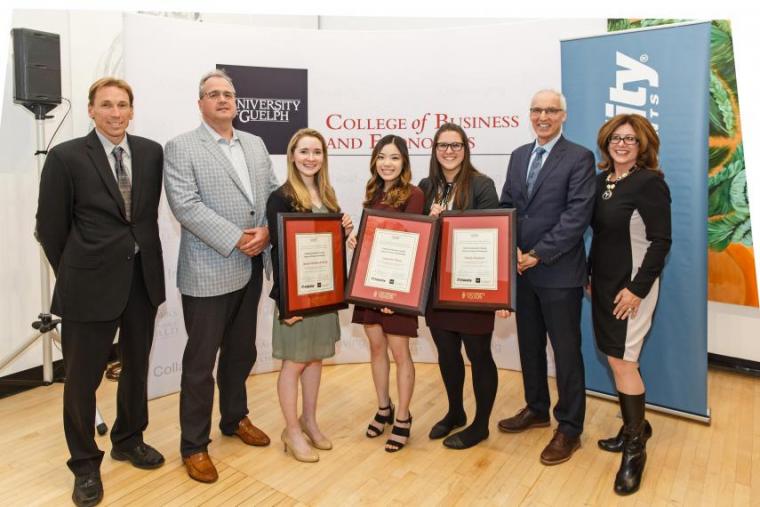 As part of a new partnership with Fidelity Investments Canada [1], four University of Guelph female finance students were awarded the Fidelity Investments Canada Theory of Finance Scholarship, valued at $1,000 each.
The Fidelity Investments Canada Theory of Finance Scholarship will be awarded over the next five years to the top four female students with the highest grades in the Theory of Finance (ECON*2560) course. The course explores capital budgeting, long-term finance, investment decisions and corporate finance with a heavy focus on sustainable business.
Congratulations to the 2018 award winners: Lauren Chan, Emily Blydorp, Caroline Bombino and Jenna Rolland-Mills! With a class average around 70%, the cutoff for the scholarships was 95%. Congratulations on this incredible academic achievement.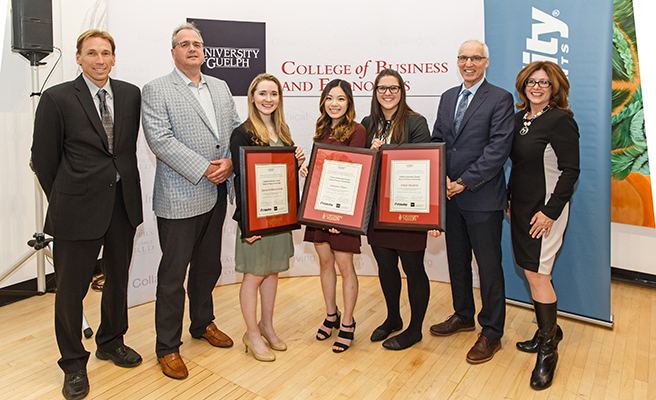 The students received their award at yesterday's Fidelity Day event, which was a chance to celebrate the new partnership between Fidelity Investments Canada and U of G's College of Business and Economics. Through a generous donation totaling $215,000, Fidelity Investments Canada will fund $40,000 in new scholarships to support women in finance at U of G.
Along with the in-course scholarships, Fidelity has sponsored multiple entrance scholarships, available to female students with the highest entering average, who are enrolled in the Management Economics and Finance major. Each award worth $4,000.
"By providing support and recognition for our top female finance students, Fidelity is helping us to attract and develop talent for a rewarding career path that has traditionally been male-dominated," says Julia Christensen Hughes, Dean College of Business and Economics at the University of Guelph. "We are grateful to Fidelity for their insightful leadership and for helping us advance our commitment to developing leaders for a more sustainable and equitable world."
"We're very proud to be partnering with the University of Guelph and their Investment Club. U of G is a world-class, innovative school and are tremendous advocates for the advancement of women," said Rob Strickland, President Fidelity Investments Canada ULC. "For a number of years, Fidelity has been actively working to increase the number of women in the investment and finance industries and we are pleased to work with U of G to help further that goal."
In addition to supporting women in finance, the donation also funded an experiential learning opportunity by giving $100,000 to the Guelph Student Investment [2] Council (GSIC), a finance-focused student club, so they can invest real-money on the TSX and other major North American exchanges.
At Fidelity Day, GSIC had the opportunity to present a portfolio of stocks to finance professors and executives from Fidelity Investments Canada, including President Rob Strickland and Chief Investment Officer and Portfolio Manager Andrew Marchese.
"We're proud to do things differently at U of G, redefining leadership and challenging students and faculty alike to be more sustainably and responsibly minded when it comes to business," says Julia Christensen Hughes. "Fidelity's generous donation gives our innovative students access to unique opportunities that will help shape them as business leaders of the future."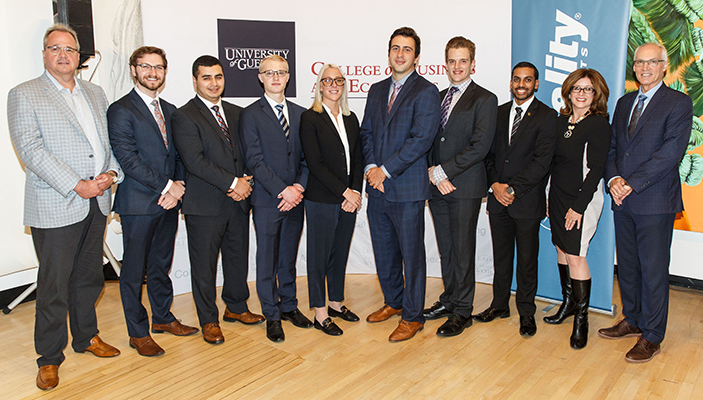 Throughout the day, 21 Fidelity Canada representatives were on campus to visit classes as guest lecturers, network with U of G business students, and celebrate the new partnership.