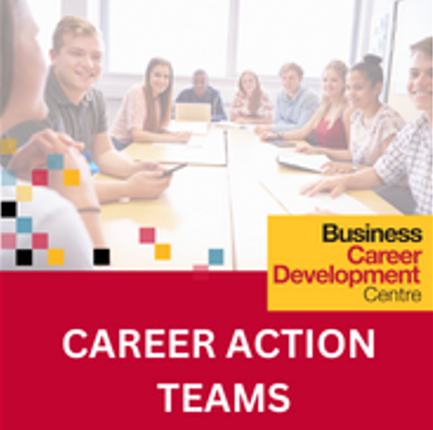 The Business Career Development Centre: Career Action Teams

Target Audience: B.Comm Students ONLY
4 sessions over the course of the semester and access to Career Action Teams online group.
Network with fellow B.Comm job searchers.
Receive guidance from our Career Advisors.
You pick the topics of discussion.
Receive 4-months of LinkedIn Learning FREE (reimbursed afterwards).

Session #1: Job Search Strategies

 The Business Career Development Centre invites you to join other B.Comm students while they navigate the work of job searches.

Let's talk job search strategies. Join your peers and BCDC Career Advisors for open dialogue about how to successfully tackle your job search. We will answer your questions, talk about what is working and what's not and share best practices for resume writing, cover letter development, creating a LinkedIn profile and interview preparation.  

Date: Thursday, February 16th
Time: 11:30 a.m. - 12:30 p.m.
Location: MAC Room 218
Register here! [1]
About the Business Career Development Centre
The Business Career Development Centre (BCDC) offers tailored career support to business students at the University of Guelph. The BCDC provides access to workshops, events and services including mentoring and networking opportunities, one-on-one career coaching, and assistance building your professional online presence. The BCDC strives to ensure the legitimacy of external events and workshops posted we promote to students. As a participant in any event or workshop, we encourage you to exercise due diligence, and research the integrity of the organization(s) prior to attending. If you have any questions or concerns, please contact our office.