Prof Tells How to Train Your Brain in New Book
April 13, 2010 - News Release
Never mind age, social status or IQ. Anyone can fine-tune their brain to perform at a higher level, according to a new book by a University of Guelph neuroscientist.
It's not unlike training muscles in the body: for optimal results, you focus on strengthening the parts that enhance performance the most, said Mark Fenske, a professor in Guelph's Department of Psychology who co-authored The Winner's Brain: 8 Strategies Great Minds Use to Achieve Success with fellow Harvard-trained brain expert Jeff Brown.
The Guelph launch of the book will be May 12 at 7 p.m. at The Bookshelf in downtown Guelph.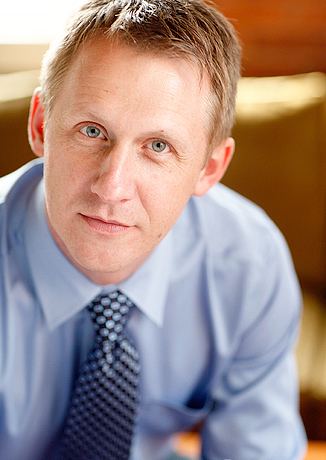 In the brain, boosting function means learning how to flex the parts involved in operations that are critical for success, such as those related to focus, memory, adaptability, emotional control and self-awareness. And the more you learn about the brain and how to best exercise it, the more you can improve its condition.
"In the past, it was believed that the brain was relatively 'hard-wired,' that the capacity of the brain to change and develop was severely limited past adolescence," Fenske said.
"We now know that is not true. Each of our brains retains the characteristic of neuroplasticity — the capacity for changes to its physical structure and function — well into adulthood."
The Winner's Brain includes strategies for reshaping the brain and improving function in areas associated with success, such as motivation, optimal risk-taking and resilience. It also explores the brain science behind such factors and includes interviews with famous and not-so-famous people who have developed "winning brains." Subjects include blues legend B.B. King, actor Laura Linney, Olympic gymnast Kerri Strug, FBI agents and even cab drivers on the streets of London.
"Across the board, what these people have in common is that they have trained their minds to reach their maximum potential," said Fenske. This involves teaching the brain to do everything from focusing to shut out crowds of thousands to bouncing back from rejection with passion and determination.
His role in the book involved identifying the latest science behind "the winning brain." A U of G professor since 2007, he uses neuroimaging and studies human behaviour to examine how the brain's attention and emotion systems can enhance performance. Brains that perform successfully really do "light up" differently in brain scans and perform more efficiently, he said.
In the book, Fenske discusses how the structure and function of the brain is altered as a result of how it's used. For example, it's known that cab drivers in London have more developed hippocampuses — the area of the brain involved in memory and spatial navigation — than other people. And musicians who are able to improvise can shut down the portions of the brain correlated with self-consciousness in the process of composing on the fly.
The book's message is simple: anyone can transform their thinking, feelings and behaviour and even the physical structure of their brain. "We all have a brain, and how it functions depends in part on what you choose to do with it," he said.
Follow the authors' Psychology Today blog
Winner's Brain Facebook fan page and Twitter account
Contact:
Prof. Mark Fenske
Department of Psychology
519-824-4120, Ext. 56411
mfenske@uoguelph.ca

For media questions, contact Communications and Public Affairs: Lori Bona Hunt, 519-824-4120, Ext. 53338, or l.hunt@exec.uoguelph.ca, or Deirdre Healey, Ext. 56982 or d.healey@exec.uoguelph.ca.