Guelph Informatics Expert Wins International Prize
May 05, 2010 - News Release
Building a computing hub used by biodiversity scientists around the world has earned a prestigious international prize for a University of Guelph bioinformatics expert.
Sujeevan Ratnasingham, informatics director with U of G's Biodiversity Institute of Ontario (BIO), has been awarded the 2010 Ebbe Nielsen Prize from the Global Biodiversity Information Facility (GBIF), a multilateral initiative that enables free and open access to biodiversity data online. The award, worth 30,000 euros (C$40,000), was announced this week.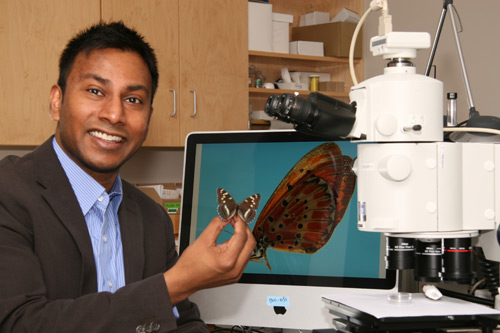 Established in 2001 ― the same year Ratnasingham completed his undergraduate degree in computing and information science at Guelph ― the prize is named for the late Ebbe Nielsen, a Danish entomologist who helped to establish GBIF. The award is given to a promising early-career researcher using biosystematics and biodiversity informatics in novel ways. Ratnasingham is the first Canadian to win the prize.
"I was incredibly honoured," said Ratnasingham, who plans to use the funding for research and partnership-building. "It's such a prestigious award. It's always nice to be appreciated by one's peers." He will receive the award and speak during a GBIF symposium in Korea in October.
BIO director Paul Hebert, a professor in the Department of Integrative Biology, says the prize "acknowledges the value of genetic data to biodiversity science and also recognizes the important work that Sujeevan and his colleagues have been doing." Hebert invented DNA barcoding to identify species of living things based on a representative snippet of genetic material.
Starting as an undergraduate with Hebert, Ratnasingham has led development of the computing and bioinformatics technology that enables scientists and general users worldwide to catalogue and identify species of living things. With a team of programmers, bioinformaticians and technicians, he administers the global Barcode of Life Data (BOLD) Systems (www.boldsystems.org). The online workbench combines data, images and other information about species' genetic and morphological traits, geography and taxonomy.
"The focus of my work is in developing systems that allow many researchers to work together and share information on a global scale," said Ratnasingham. Scientists might log in to BOLD to compare species diversity in different sites; youngsters might use it as an online encyclopedia to gather information for a school project.
Scientists working on hundreds of different barcoding projects around the world use the system to share and analyze information about species, and to compile a growing library that now contains hundreds of thousands of specimen barcodes from 70,000 species. "It's impossible to work with this volume and diversity of data without novel computing platforms," said Ratnasingham.
Under the new International Barcode of Life project, researchers plan to barcode five million specimens representing 500,000 species of living things by 2015. Fewer than two million species have been catalogued using traditional methods during the past 250 years. Estimates of the number of species on Earth range from 10 million to 100 million.
Last month, the BIO received $8.1 million from the Ontario government, more than half to be used for bioinformatics.
After his Guelph studies, Ratnasingham worked in the private sector before returning to head U of G's barcoding bioinformatics project in 2004. The BIO opened in 2006 and will expand this year.
Ratnasingham's development of the BOLD system "is a major and innovative landmark in bringing genomic data on biodiversity to research and research applications for science and society," said Leonard Krishtalka, chair of the GBIF science committee.
For media questions, contact Communications and Public Affairs: Lori Bona Hunt, 519-824-4120, Ext. 53338, or l.hunt@exec.uoguelph.ca, or Deirdre Healey, Ext. 56982 or d.healey@exec.uoguelph.ca.