Begging Bear Comes Back to Celebrate Arts and Culture
September 28, 2011 - News Release
Among several activities led by the Macdonald Stewart Art Centre (MSAC) to celebrate local arts and culture on Oct. 1, the refurbished Canadiana/Begging Bear sculpture will be unveiled near the bus stop on Gordon Street.
Created by Carl Skelton and originally installed in 1999, the 7½-foot-tall bronze icon underwent repairs at a Georgetown, Ont., foundry after having been toppled over this past spring. The bear will stand on a new, sturdier base.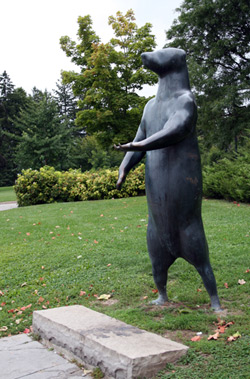 "The return of the bear to MSAC is an emotional thing for me personally," said Aidan Ware, the art centre's co-ordinator of education and development.
"Like many in Guelph, I'm very attached to the sculpture. The bear has marked many important occasions in people's lives in the community, and it's very moving to see how people interact with this artwork. The bear's hand is outstretched in the same way I hope our community will continue to reach out in a creative and caring capacity."
Canada's second annual three-day celebration of arts and culture runs from Sept. 30 to Oct. 2 and will include a variety of activities in and around Guelph. MSAC will host a number of special events Saturday, Oct. 1.
10 a.m. The public is invited to contribute to a tapestry reflecting the spirit of Guelph and its residents. Donate fabric, postcards, letters, posters and other flat personal items to be sewn into the tapestry throughout the day.
2-3 p.m. Guelph residents can join in the "Human Quilt" project to create Guelph's first community portrait. Bring an item representing your role in the community for a group photograph to be taken by Dean Palmer, one of Guelph's best-known portrait photographers. All participants will receive a digital copy of the portrait.
7 p.m. Reinstallation of the Begging Bear followed by the opening reception for MSAC's fall exhibitions.
"This year's events at MSAC are special because they have a great community focus and interactive component," Ware said. "It's exciting to be part of the creative process. Rather than just viewing art, people can get involved in making art and tangibly interact with culture, while building relationships with artists, organizations, family and community."
Other MSAC events will include a lantern tour of the Sculpture Park and grounds from 10 p.m.
Last year, Guelph joined about 700 communities across the country in the inaugural Culture Days event.
"It's important to appreciate arts and culture in our everyday lives," Ware said. "The annual Culture Days celebration helps us to value creativity and to foster a caring environment for our city. I love to organize events for the public that I think people will really enjoy and which will make a difference, creating great memories."

More information about Culture Days in Guelph is available online.

For media questions, contact Communications and Public Affairs: Lori Bona Hunt, Ext. 53338, lhunt@uoguelph.ca, or Shiona Mackenzie, Ext. 56982, shiona@exec.uoguelph.ca.