Exemplary Staff Lauded at Community Breakfast
September 09, 2011 - Campus Bulletin
Seventeen outstanding U of G employees received President's Awards for Exemplary Staff Service at the ninth annual community breakfast on Sept. 7.
President Alastair Summerlee presented the awards, which recognize staff members who have consistently demonstrated a commitment to excellence and exceeded their job expectations. Fifty-seven staff members with 25 years of service also received gifts at the breakfast, and Summerlee recognized others who had completed 30, 35 and 40 years of service.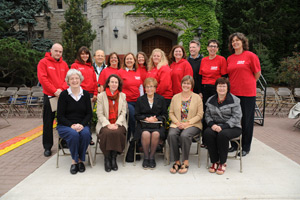 Exemplary Staff Service Award winners:
Award of Excellence in Health and Safety
Linda Trouten-Radford, a technician, departmental safety officer and chair of the safety committee in the Department of Animal and Poultry Science, was recognized for her impressive range of expertise. She has to be aware of the safety issues around livestock, poultry, fish, radio isotopes, biohazards, machinery and surgical equipment, in addition to lab safety. Her diligence helped build and maintains an organized, clutter-free, safe and healthy work environment.
Community Service Award
Linda Wing, a clerk in the School of Environmental Sciences, was honoured for her active role in the parent councils of her children's schools, working with Wellington County 4-H for more than 15 years, volunteering with Big Sisters of Wellington County for more than 15 years, and taking part in the Fergus Fair board's youth committee. She is also a Sunday school teacher at St. Andrew's Church in Fergus.
Exemplary Team Recognition Award
The OVC Health Sciences Centre information system team comprises 10 staff members from various parts of the college: Tanis Comrie, Dana Irvine, Paul McDonald, Judy Metherel, Elizabeth Reemeyer, Lucy Siydock, Cheryl Weidner, Brenda Ford, Gayleen Gray and Judy Tack. The team was recognized for efficiently identifying the system requirements, reviewing vendor proposals, and designing and customizing a new system. Once it was installed, they also tested the new system and trained more than 300 people to use it.
Hidden Hero Recognition Awards
Uwe Oehler, a software manager in the Department of Chemistry, was honoured for his initiative and problem-solving skills. He balances impressive technical knowledge with imagination and creativity, consistently exceeds expectations and does so with a friendly smile.
Michael Boterman, a secretary in the School of English and Theatre Studies, was recognized for his efficiency, reliability and cheerful attitude. His nominators described him as "a guiding light for students who goes beyond his job description and helps us all find the excitement in theatre."
Innovative Leadership Recognition Award
Diane Dobbins, research and partnerships manager in the College of Management and Economics, was cited for her tireless work to support research activity and raise the profile of faculty research in the college. She has earned the trust and respect of those who work with her.
Service Excellence Recognition Award
Inez Scapinello, Hospitality Services, has served U of G with exceptional commitment since the mid-1950s. She started as a housekeeper for then president William Winegard, but has most recently worked in the University Club. She was honoured for her high level of professionalism; her colleagues say few people have served the University so long with as much grace and loyalty.
University of Guelph Spirit Award
Rhonda Alger, an administrative assistant in the Department of Animal and Poultry Science, is said to exemplify what the spirit of U of G is all about. Quietly competent and always willing to help out, she often goes above and beyond what is expected. She has been volunteering with the United Way campaign since 2007, and her hard work and dedication continue to be a valuable component of the annual campaign.
A list of the honourees is available on the Human Resources website.
A photo is here.