Installation Celebrates Success of BetterPlanet Project
September 07, 2011 - News Release
The University of Guelph today celebrated passing the midpoint of its $200-million BetterPlanet Project by unveiling a dramatic "donor wall" in Rozanski Hall.
"This artistic feature recognizes our leadership donors, the pillars of our campaign," said president Alastair Summerlee during an event attended by more than 100 donors, University and city officials.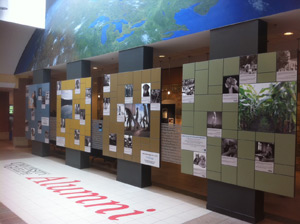 "But it also tells the story of the BetterPlanet Project and stands as an evolving symbol of the issues and needs being addressed as we look to create change and make the world a better place."
Launched publicly last fall, the BetterPlanet Project aims to raise $200 million to help U of G increase its research capacity and enhance student learning.
The new installation in Rozanski Hall includes a giant mural map of Canada covering an arched wall 20 feet above the floor of the classroom complex lobby. The painting, completed by five local artisans over 500 hours, is illuminated by a skylight.
The 42-foot-long painting stretches above four columns that represent the themes of the BetterPlanet Project — communities, food, water and environment.
A mosaic of wooden plaques honours donors with names, photos, quotes and stories. Currently, the wall recognizes donors of $500,000 or more. Over time, more names will be added, and the display will change in shape and scope. By 2014, the University's 50th anniversary and end of the $200-million campaign, it will evolve into a comprehensive list of all donors to the BetterPlanet Project in the form of an interactive display.
"Today's unveiling is a celebration of extraordinary giving to the University and significant progress to date of the campaign, which has captured the imagination and attention of many people," said Joanne Shoveller, vice-president (advancement).
With more than $110 million raised so far, the campaign has garnered support from alumni, businesses, foundations, the campus community, parents and other friends of the University.

"More important than the total amount, the BetterPlanet Project is transforming the ways that donors give," said Shoveller. "It has broad appeal to a wide range of supporters."
More than 14,000 people gave to the BetterPlanet Project in 2010/2011 alone, including 4,500 first-time donors. The campaign has received 33 gifts worth more than $500,000 each.
Said Summerlee: "The University has undertaken a big vision and a big goal with the BetterPlanet Project — improving the quality of food, environment, health and communities here and around the world. We hope that the donor wall will serve as a touchstone for the entire University community and visitors to our campus."
Located in the centre of campus, Rozanski Hall attracts visitors as well as students from many programs.
For media questions, contact: Communications and Public Affairs: Lori Bona Hunt, 519-824-4120, Ext. 53338, lhunt@uoguelph.ca; or Shiona Mackenzie, Ext. 56982, shiona@uoguelph.ca.