Efforts Aim to Engage Students, Boost Voting in Provincial Election
September 14, 2011 - News Release
"Vote — Participation Changes Everything." That is the message the University of Guelph's Central Student Association (CSA) and Student Life want to share with students about the upcoming provincial election.
Both groups have organized initiatives to inform students about people and issues involved in Ontario's general election to be held Oct. 6.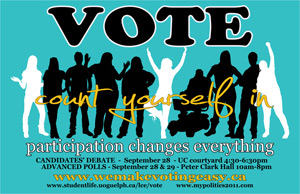 Starting this Thursday, the activities will include candidate meetings and debates, advance polling and "vote mob" videos.
Janet Doner, co-ordinator of civic engagement in Student Life, said studies have shown that youth feel they lack enough information about election candidates and issues.
"We want to provide them with opportunities to meet candidates in person, learn from other students who are politically affiliated, read about the party platforms and feel confident that they are making an informed vote."
Several events will take place Thursday, Sept. 15. Information about voting, upcoming events and other literature will be available in Branion Plaza from 11:30 a.m. to 1 p.m.
A "Meet the Candidates" gathering and a forum of campus political groups will be held from 7 to 10 p.m. in the Bullring. Participants will answer questions about party stances on issues such as the environment, education and the economy.
Shooting for a "vote mob" video will start at 11 a.m. in Branion Plaza near the cannon. All students are encouraged to participate. The footage will be used for a music video intended to engage students in the provincial election, said Derek Alton, the CSA's local affairs commissioner. The project also involves students Lindsey Morris, Phillip Baker, Veronica Jennings and G.B. Olarewaju. During the first shoot held this past Saturday, nearly 80 first-year students performed a choreographed dance on Johnston Green.
An all-candidates' debate will take place Sept. 28 from 4:30 to 6:30 p.m. in the University Centre courtyard. Submit questions by Sept. 26 to citizen@uoguelph.ca.
Advance polls for the U of G community will be held Sept. 28 and 29 from 10 a.m. to 8 p.m. in Peter Clark Hall. Students may register and vote on either day. For more information, visit the Elections Ontario website, www.wemakevotingeasy.ca.
On election day Oct. 6, residence students may vote in Peter Clark Hall from 9 a.m. to 9 p.m. Other students can find their polling location by entering their postal code at the Elections Ontario website.
Said Doner, "Students in Guelph demonstrated in the last federal election that they are engaged and want fair access to voting opportunities. Elections Ontario has paid special attention to this as well and is making sure to have significant numbers of staff people on hand for both the advance polls and the election-day poll on campus."
The CSA and Student Life have handed out more than 450 blue T-shirts with their "vote" slogan to students and clubs on campus. They've asked people to wear them Sept. 15, 18, 22 and 29 and Oct. 5 and 6 to promote participation.
Learn more about the election by visiting the following websites:
Elections Ontario

Student Life: Leadership & Community Engagement

Central Student Association
For media questions, contact Communications and Public Affairs: Lori Bona Hunt, 519-824-4120, Ext. 53338, or lhunt@uoguelph.ca, or Shiona Mackenzie, Ext. 56982 or shiona@uoguelph.ca.