U of G Student Plans to Fight World Hunger With a World Record
September 09, 2011 - News Release
How many people does it take to put together 150,000 meals in 60 minutes? University of Guelph grad student Gavin Armstrong says the answer is 1,500, and he's recruiting that many volunteers to set a world record for "most famine relief meals packaged by a volunteer team in one hour" at the University on Sept. 17.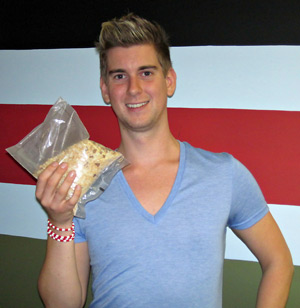 Continuing the momentum of the successful Universities Fighting World Hunger summit hosted by U of G last year, this is the first in a series of activities the University is endorsing to help raise awareness and engage students to deal with emergency relief and hunger in a permanent and lasting way.
Organized by Armstrong, who won the 2011 President William Jefferson Clinton Hunger Leadership Award, and Tania Framst, executive assistant in the U of G president's office, the event aims not only to set a world record but, more importantly, also to get emergency relief meals ready in bags for distribution to schoolchildren in Haiti. The cost of the event is being covered by the sponsors of the hunger summit.
"Networking at the summit gave me the opportunity to appeal for support from people who care as much as I do," said Armstrong. "By participating in other charities' food-packaging events, I was inspired to do more. It's amazing that just one hour of your time can make such a big difference in other people's lives."
At the Sept. 17 event, an assembly line of helping hands will measure the ingredients with scoops, then fill and seal the bags. Each meal includes four ingredients — rice, soy, beans for added protein and a flavouring packet — and provides 21 vitamins to boost the immune system. Each meal can be easily prepared by boiling in a pot of water.
ONEXONE, a Canadian charity, will manage the transport and distribution of the food.
"The situation in Haiti and elsewhere seems dire, but it is not hopeless," said Armstrong. "These emergency relief meals are vital but should not be considered a long-term solution. I'd like to see famine eradicated. We must promote sustainable agricultural practices for the future."
Armstrong serves on U of G's BetterPlanet Project steering group and has been advocating for an end to world hunger for six years. He participates in a number of volunteer activities and said he's inspired by the caring community around him. "Most Guelph students are involved in volunteer work throughout the year, and the University administration is very supportive."
If this world-record event goes well, Armstrong hopes to get 10 universities involved next year and set a world record of one million emergency relief meals packaged by a volunteer team in an hour.
Online registration is available for those who want to volunteer. The event will take place on Johnston Green at the University of Guelph; the rain location is the Mitchell Athletics Centre main gym. On-site registration begins at 1 p.m., and food packaging starts at 2 p.m. Prizes will be awarded when the hour-long event is over at 3 p.m.
For media questions, contact Communications and Public Affairs: Lori Bona Hunt, 519-824-4120, Ext. 53338, or lhunt@uoguelph.ca, or Shiona Mackenzie, Ext. 56982 or shiona@uoguelph.ca.